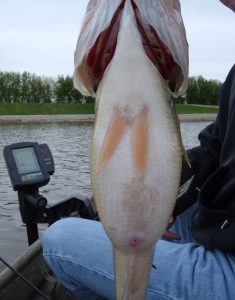 Today's Emiquon Flashback was the second of a four-part fishing report from a May 5, 2011 trip with my brother, Brent. I suppose it seems a bit over the top to craft four postings from one six hour fishing trip but Emiquon was that kind of place back in those early years.
Originally Posted 5-16-11
Looks like its "All You Can Eat" for the bass that call Emiquon home.
While some things have changed since Emiquon was opened to anglers back in April of 2009, the bass continue to display an aggressive disposition. And although outings may not produce the quantities they used to, the quality continues to impress. These bass are stout, well fed and show no signs of slowing down.
Brent and I both marveled at the distended bellies on the bass we landed on our latest trip. Repeatedly we were left shaking our heads stating, "Look at the gut on this thing." We're strictly catch and release on our bass but I must admit being tempted to take one home just to do some dissection. Of course, we didn't have one make the grade anyway as Emiquon regulations specify a daily limit of one largemouth with an 18" minimum length. The best we could do was 17" and I truthfully would have only taken photos home no matter the size of our Top Bass.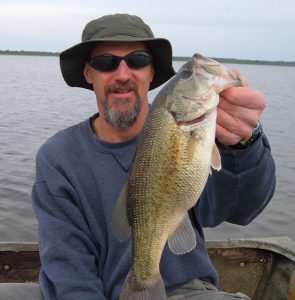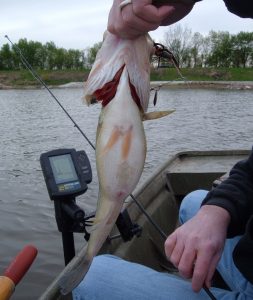 No matter how you shot the pics, the bass were flat out healthy
Looking at my log entries dating back to 1987, the weight of 17" bass is clustered between 2-0 and 2-4. Our 17" Emiquon specimen tipped the scales at 2-12 and while it represents only one data point, I don't think it's a fluke. Our three 16" fish came in at 2-3, 2-3 and 2-5 compared to my log data averaging right around 1-15 and we also had a 15" at 2-1 compared to about 1-10. Granted this is rather unscientific and contains innumerable variables in the sampling methods and locations but I'd still put the health of the individuals in Emiquon's bass population up against those on any other public body of water I've ever fished. Regardless of the length, you just don't see scrawny bass.
Getting back to my dissection comment, we left without a solid answer on what they were eating other than spinnerbaits, which was working out just fine. Back in 2009 I wrote a piece on Emiquon that included the following observation; "A handful that I examined also had fish tails emerging from their throats yet were still in pursuit of another meal." This time around we spotted neither tails nor the telltale antennae indicative of a crawdad dinner but whatever is on the menu it certainly seems like there's plenty to go around.

Here's another incredible bit of data as I weigh all bass 12″ or better and 35 of our 36 catches met that criteria.                           Folks, that is not normal.
From what I understand, over the last several years management decisions and Mother Nature have totally altered the population dynamics and species structure of the old fishing hole. Unfortunately, for us anglers, the management strategy was never really geared towards being one of the best fisheries around. But for a time, and for my money, once upon a time, it sure was. Talk to you later. Troy