Got in one more August outing to kick off the Labor Day weekend and it turned out pretty solid in terms of numbers and decent bass. 2019 has really been a struggle for me in regards to big bites and while no trophies on this trip I did find enough for a respectable Top 5 in my book.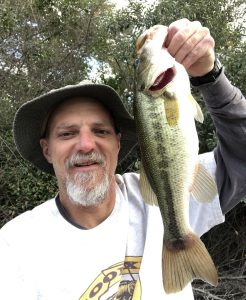 7:26am 16.5″ 2-3 Buzzbait
Stats
Date: August 31, 2019
Location: Knox County, IL strip mines (2 private/1 public)
Time: 6:45am-12:45pm (5.00 hours fishing)
Weather: Partly cloudy/breezy
Air Temp: 58-66F
Water Temp: not available
Totals: 23 bass
Lures:
Booyah Buzz Buzzbait (snow white shad) – 14 bass
Strike King Red Eye Shad (orange craw) – 5 bass
Booyah Blade Spinnerbait (salt and pepper) – 2 bass
Strike King 2.5 Rattling Squarebill crankbait (pumpkinseed) – 2 bass
Top Bass: 2-8 (Red Eye Shad)
Top 5 Weight: 10-1 (2-8,2-3,2-1,1-12,1-9)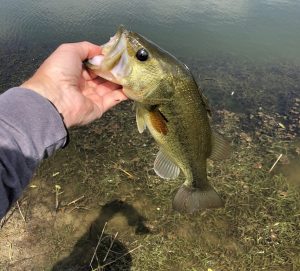 12:00pm 15″ 1-9 Strike King Red Eye Shad
Notes and Nonsense
Hey Judy – Sunrise weather conditions and early success had an unusual soundtrack running through my head that made perfect sense, at least to me. The two hit combo consisted of Judy Collins' "Clouds" and "Send in the Clowns" (with Clouds substituted). No doubt I was happy to see some cloud cover for the first time on a fishing trip in 2019. I'd been struggling all year to get my buzz on and the conditions had me confident that this would be the day. And it was but I sure wish that Judy would have recorded something about lunkers.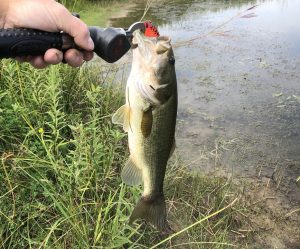 12:07pm 16.5″ 2-1 Strike King Red Eye Shad
Raydio – Before he became the "Ghostbusters" guy, Ray Parker Jr. had a successful stint with his band, Raydio. A 9:48am text from my brother, Brent, had me wishing I could be in "Two Places at the Same Time" as he sent a pic of a Top 5 qualifier from just a few miles from where I was casting. In thinking about the present state of technology though, you really can kind of be in two places at once via texting, Facetime and various social media applications. Certainly a far cry from the 80s when we first caught this fishing bug. (Note: Raydio also see – "You Can't Change That", "Jack and Jill", "A Woman Needs Love", and "That Old Song.")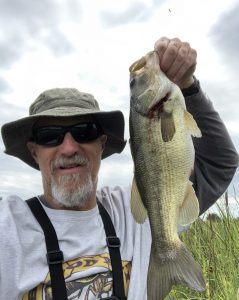 12:11pm 17″ 2-8 Strike King Red Eye Shad
Ring My Bell – I've been running around the Victoria, IL strip mines for over 30 years and used to work at Snakeden Hollow back in 1990 during a six-month temporary stint. In those days, at noon sharp there was a siren that would sound and ring across the old strip mine ground. I am not certain of the origin but I always called it the "dinner bell." While I did not hear it from my location on this trip (if it truly still sounds), the bass turned on at exactly noon after a 30 minute fishless drought.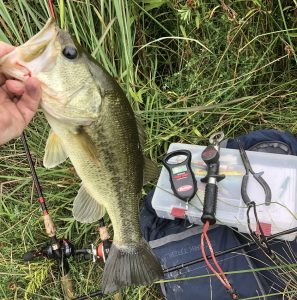 12:26pm 15.5″ 1-12 Strike King Rattling Squarebill crankbait
Overall a good day in terms of numbers and okay by me when my Top 5 weight enters double digits, even if only by an ounce. Just happy to get out one more time in August, enjoy some mild weather and find a decent bite. Bank beat boat this time around which is kind of fun for a blogger who leans towards a low tech and low budget approach. It's not always easy but if you are willing to put in some work you can still track down those bites.
Plenty more posts on the horizon with a couple fishing reports from September, a Trip Tunes compilation, some Top 5 stats, the regular Friday Flashback post and perhaps a couple other ideas I've got in the works. So much fishing stuff but so much other stuff that sits up the priority list just a bit higher. Stay tuned and talk to you later. Troy