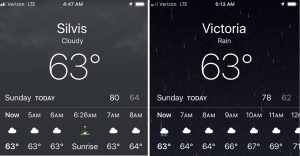 Back to back days on the water with a trip to end one month and a follow-up to begin the next. It sure didn't take long to get that September bass, first cast of the morning in fact. Read all about a crazy start, a lackluster finish and some new prospects below.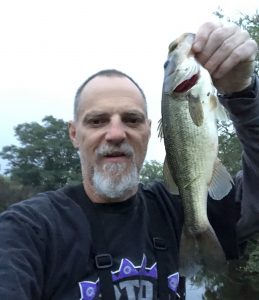 6:30am – How about a first cast bass? Will it last?
Stats
Date: September 1, 2019
Location: Knox County, IL strip mines (2 private)
Time: 6:30am-10:40am (3.75 hours fishing)
Weather: Overcast/breezy to calm
Air Temp: 62-66F
Water Temp: not available
Totals: 14 bass
Lures:
Booyah Buzz Buzzbait (snow white shad) – 11 bass
5" Yamasenko wacky rig (watermelon/crème laminate) – 3 bass
Top Bass: 1-5 (Buzzbait)
Top 5 Weight (only 4 at 12" or better): 4-0 (1-5,0-15,0-14,0-14)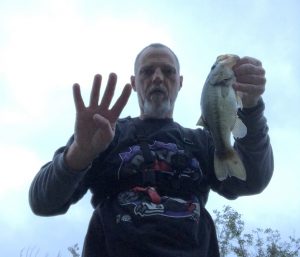 6:39am – Are you kidding me? Four bass in less than ten minutes of casting and recording
Notes and Nonsense
The Fast and the Furious– Some unexpected rain on the drive continued once I made it to the fishing hole. As a result, I kicked off my casting from the bank as a light rain continued to fall and the skies still looked a little iffy. It worked out quite well with a bass on each of my first two casts and three on my first four. All told I spent fifteen minutes in one spot on the bank and reeled in six bass. I must say it had me pretty fired up about my prospects for the day.
The Frustrating – While that initial pace was no doubt bound to slow, the morning bite really diminished with only eight more bass in the next three and a half hours. Nothing much changed in terms of the conditions but it sure took a lot more work to find my fish.
In Search Of – From 1977 to 1982, Leonard Nimoy of Star Trek fame hosted a television program of this name and I was a big fan of those 30-minute journeys into speculation, conjecture and pseudoscience. Well, perhaps I should compile my own documentary detailing my quest for what seem to be mythical large bass here in 2019 as it has really been a struggle. Hey, I'm a credible witness to past "trophies", even have photographic evidence going back for decades, for what that's worth these days. Maybe I need to recruit that "River Monsters" guy to see if he can help me find something bigger than the 1-5 fish that was Top Bass on this day.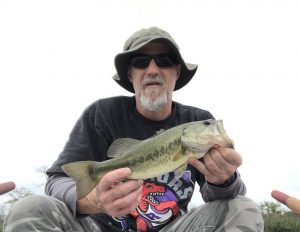 9:53am not much of a Top Bass for the day at 1-5 but that was the best I could fool
New Ground – Desperate times call for desperate measures so I finally pulled the trigger on a couple fishing holes that I've had in my sights for many years. Thanks to social media (never thought I'd say that back in the day) I was able to reach out to a Galesburg High School classmate to get the scoop. It required a $35 investment but I now have some more Knox County water to explore. And I did a little of that on the heels of this outing and the following evening with a special guest as a co-angler.
But that is a fishing report for another day. Plenty more fishing stuff as well so I hope you'll continue to make the blog a regular stop on your internet wanderings. Talk to you later. Troy