Today we take a second look back at Pat's Creek from 15 years ago (click here for the July 25 flashback post). The timing on this one is kind of funny as my boy, Zac, just asked me the other day, "Dad, who is a better fisherman, you or Papa?" The best I could offer as a response was "It depends on what we're fishing for." Read on for some evidence via an excerpt from the original October 5, 2004 post.
September 11, 2004 – Dad and I headed for Pat's Creek in hopes of matching the success from our trip in late July. Well, Dad did pretty well and I caught one fish. Guess I wasn't holding my mouth right or something (a concept for a future article). However, the trip did have a few highlights.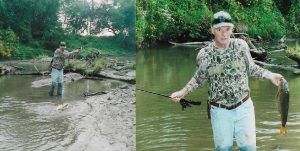 Action shot and catch from Dad's Top Carp as detailed below
Top Carp 2004 – Less than twenty minutes after our first cast, Dad nailed a 5-1 carp that stands as the current record for the year. The fish bested my 4-9 from Pat's Creek on 7/29. The carp stands as number three from Pat's with my 6-11 on top and Dad's 5-12 at number two. The fish also established a new record for the month of September as no other carp had been entered for this month.
Early Fall – Though the season had another week and a half to arrive, I got to witness a fall firsthand. The last trip Dad and I made to Pat's, we both took a tumble as we entered the creek as detailed in my 9/8 article. During our latest trip, only one of us went down and it wasn't me. Things actually looked pretty good as I hit the creek stating "We both made it" only to watch Dad take a dive. No injuries other than pride and always good for a laugh at someone's expense.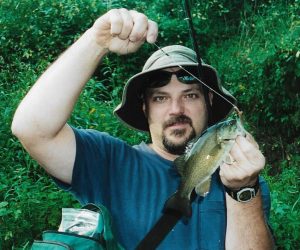 A pleasant and unusual catch from the creek described below
Smallmouth – While on the subject of falling, the creek had dropped considerably and was much clearer than normal. In fact, I was able to watch a school of minnows nibble on my shins as I stood in water just over my knees. Typically, you can feel something but can't see anything below the surface. A pair of smallmouth bass fell to our offerings marking the first appearance of this species at Pat's Creek. In speaking with Uncle Dick, this occurrence was not surprising considering the water clarity. Smallmouth prefer less turbid conditions and have moved in as favorable conditions arose. It was exciting to add a new species to the list of fish caught at Pat's and if anyone could shed some light on the arrival of smallmouth, Uncle Dick would be your guy.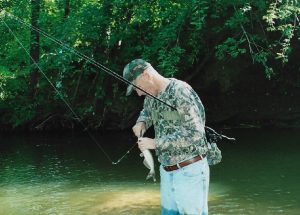 Dad doing what he does best, and considerably better than the other guy on this trip
Species Title – Dad nabbed the species title, easily outdistancing me six to one. While I managed only a smallmouth bass, Dad reeled in a redhorse sucker, a carp, a creek chub, a channel cat, a freshwater drum and a smallmouth. Actually, an argument could be made for a seventh species as he reeled up a small turtle that politely unhooked itself.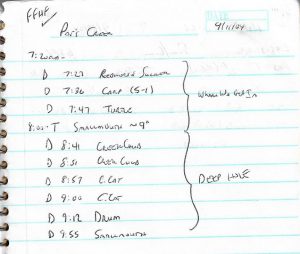 The log doesn't lie as the "D" signifies Dad's catches, the "T" my catch
So, I guess there's Zac's answer to his question and this outing was not a fluke. Hands down, Dad is the better creek fisherman. Zac also asked, "Dad, who is a better fisherman, you or Uncle Brent?" Well, I'll save that answer for a couple flashback posts later this fall. However, next up in the Friday Flashback series is a fishing trip with another of Zac's relatives. The boy didn't ask if I was a better angler than his Mom. Tune in for that one next week and plenty more in between including Zac getting back on the water. Talk to you later. Troy