I am fortunate to get Labor Day off from work so after taking in the UTHS Marching Panthers and Color Guard at the local parade it was off to the fishing hole with a special guest. My boy, Zac, commented that it had been a long time since we'd been fishing. Actually, he commented on a lot of stuff as that fellow can be a chatty one.
So, we stop for waxworms and this guy ends up with a basketball, all good, season is just around the corner
Stats
Date: September 2, 2019
Location: Knox County, IL strip mines (2 private)
Time: 4:30pm-9:00pm (2.5 hours driving, 1 hour fishing, maybe)
Weather: Sunny/breezy
Air Temp: 70s F
Water Temp: not available
Totals: about half a dozen bluegill
Lure: waxworms on jighead hung from a slip bobber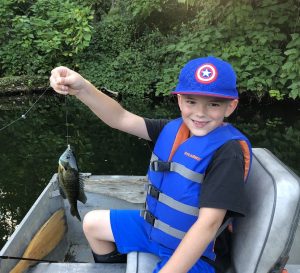 Bluegill success and of course, you have to test out the new boots by getting in the lake
Notes and Nonsense
Belly Flips – Hopefully more than a few out there can relate to a country drive up and down some hilly, low traffic roads which are ideal for producing that funny feeling in your belly. Me and Zac got plenty of belly flips once we left the beaten path to travel those last few miles to a couple new fishing holes. Why it seems like it was just forty five years ago that I was about his age enjoying the same treat with Dad at the wheel.
Questions 67 & 68 – I couldn't help but think of this old Chicago tune and I kind of wish that I had actually counted as Zac may have exceeded these numbers. Sample questions included:
"How much is a fishing license?"
"Does everybody need a fishing license?"
"Is it funner fishing with me or Jayce?"
"Are those oars or paddles?"
"Can you see in the water with your glasses?"
"Will this boat tip over?"
"Is a kayak easier to tip over than this boat?"
"Why is it called a buzzbait?"
"How come you don't have to wear a life jacket?"
"Who is a better fisherman, you, Papa or Uncle Brent?"
"Were you, Papa or Uncle Bubba a better basketball player?"
And while not a question, there was also a lot of "Dad, Dad, Dad."
One on One – With four kids in the house and the resultant constant motion of daily responsibilities and activities, it really is rewarding to spend some "alone" time with a single kid. While it was billed as a fishing trip, we maybe spent an hour in the boat and even less time actually fishing. Along with catching a few bluegill, we caught the end of a Cubs victory, jammed on some 70s and 80s tunes, shot some hoops, made a Subway supper stop (complete with two cookies apiece) and one of us even got in a nap on the late night drive home. Good stuff no matter how the fish were biting.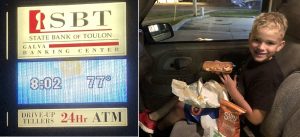 Told Zac we'd hit Galva Subway at 8:02pm upon leaving the lakes. Yep, travelled this route just a few times before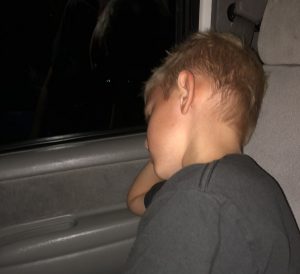 Game over after some fresh air and a three day weekend
This trip concluded a busy and enjoyable three day Labor Day weekend with a good mix of family time and time on the water. And this particular angling journey was an entertaining combination of both. Talk to you later. Troy