A popular assessment over the years regarding my "home" lake, Lake Storey, was "there's no fish in there!" Such a lament was always music to my ears and brought a grin. It can take some work to find them but there a few nice fish swimming in that old fishing hole. Last Sunday, me and my brother, Brent, found some during a shortened morning outing.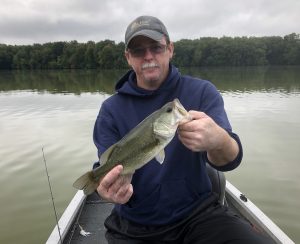 7:58am First Bass 1-3 Spinnerbait
Stats
Date: September 8, 2019
Location: Lake Storey – Knox County, IL
Time: 7:30am-11:00am
Weather: Overcast to partly cloudy/calm to breezy
Air Temp: 61-66F
Water Temp: 73-74F
Totals: 15 bass (Brent – 10 bass, Troy – 5 bass)
Lures:
Brent: Spinnerbait (white) w/ tandem hammered blades (copper) – 10 bass
Booyah Blade Spinnerbait (bluegill) w/ twin tail trailer (smoke) – 5 bass
Top Bass: 2-6 (Brent)
Top 5 Weight: 8-2 (2-6,1-15,1-8,1-3,1-2)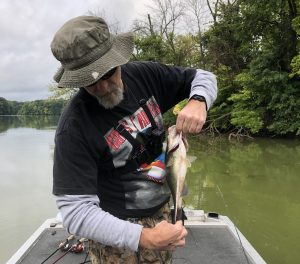 8:08am  13.5″ 1-8 Spinnerbait                                                                                                     No shutout for either guy and nice to have a photographer aboard for some variety in shots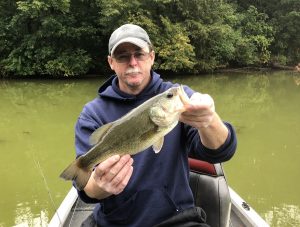 8:17am 1-15 Spinnerbait
Notes and Nonsense
Abbreviated – Initially we were to meet up at 5:30am to head out from my folks but a torrential downpour greeted me at 4:45am as I rolled out of bed at their place. A quick look at the forecast and a text to Brent pushed our meet up back to 7:00am which worked out fine. On the other end, we had to be off the water around 11:00am to make a family reunion sort of lunch date. Thus, there was no time for fooling around with slow presentations or hitting any spots beyond our top haunts.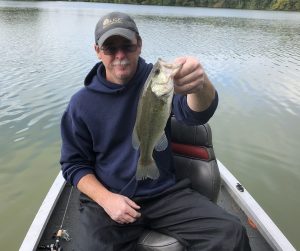 9:18am 1-2 Spinnerbait
Spot Success Rate – Rehashing our route as I composed today's post, we hit fourteen of our regular stops. Of those areas, eight of them produced a bass with multiples in a couple spots. That works out to a 57% success rate which in my book is pretty solid no matter where we fish and definitely worth a self-congratulatory pat on the back for a run and gun Lake Storey outing.
Fishing Tip – Wear your rain pants to the lake to increase the odds that the rain will cease as opposed to leaving them at home which will pretty much guarantee you'll get wet.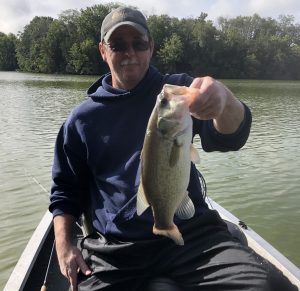 9:24am Top Bass 2-6 Spinnerbait
Nephew Needs to Know – As I edited GoPro footage from this outing, my son Zac asked, "Does Uncle Brent talk while you're fishing?" Initially I told him that Uncle Brent lets his spinnerbait do the talking for him which my other boy, Jayce, thought was pretty cool (that boy does his talking with a Senko). I then told the boys that I do hear Uncle Brent talk while we are on the water but not to me. Jayce got the point and replied, "He talks to the bass, huh?" Zac then piped up, "What does he say to them?" Boy, if I only knew…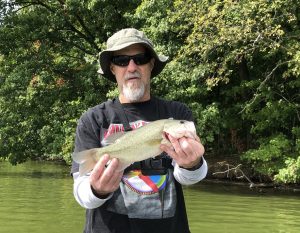 10:46am Last bass on last stop 13.5″ 1-1 Spinnerbait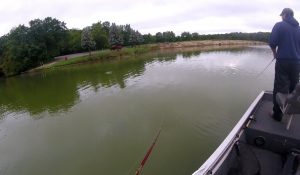 Deserted ramp all morning just as seen here…until it's time to trailer the boat
Never Fails – At 7:25am we launched at a deserted ramp. At 10:45am we were headed across the lake to a still deserted ramp right on schedule to hit a final spot and have the boat back on the trailer just after 11:00am. Of course, two vehicles with boats in tow showed up at just that time. Fortunately, both looked as if they had launched a boat before so we were still able to make our scheduled departure time and nab one final bass in the process.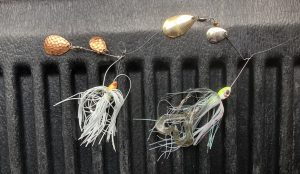 All you needed on this day, although there is a little more to it than just simply casting and retrieving
A good day on an old favorite fishing hole with a close to old favorite fishing partner (not quite 50 yet but won't be long). Always a challenge to fool some of the highly pressured and wily bass that swim in that stained water. Here's hoping for another visit or two before the fishing year draws to a close. Talk to you later. Troy