There's an old saying about "not having enough sense to come in out of the rain." Well, I would counter that statement with something along the lines of "nobody with any sense would walk away from a good bite." And walking was a key component of this fishing trip. The definite risk was hiking in about two circuitous miles with the impending inclement weather. The potential reward was a good batch of bites. In the end, both aspects materialized as further detailed today with a lyrically filled post emphasizing "rain."
Some old rain pics as evidence that you you won't melt and the fish will bite
"I'm No Stranger to the Rain" (Keith Whitley – 1989) – When faced with potential precipitation I often resort to the old familiar refrain of "we've been wet before." And as you can see above, we did okay, wound up no worse for wear and learned our lesson. That lesson being, as long as there's no lightning, you better take your shot because there are a lot of good stories in those rainy pics.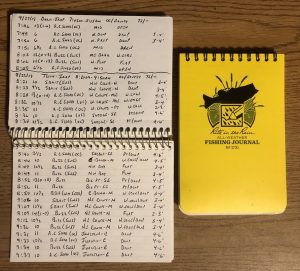 If this is fishing in the rain, I'll take it. Took my backup "rainy day" log (on right) and transferred data post trip 
"Raindrops Keep Falling on my Head" (B.J. Thomas – 1971) – Indeed, they did. Rainfall consisted of a light rain during my pre-dawn walk in, a brief shower about 7:00am calling for donning the raincoat and a downpour during the last hour of casting and hiking back to the truck. But hey, "I'm never gonna stop the rain by complaining" with 47 bass in the logbook. And with a change of clothes in the truck "nothing's worrying me."
"Blame It on the Rain" (Milli Vanilli – 1989) – The rain showed up full force about 10:15am and continued steadily at varying degrees through my final cast at 11:50am. During the downpour, the bite was inversely proportional to the severity of the showers. The heavier the rain the lighter the bite while my better fish of the day showed up as the rainfall eased a bit.
"Fool in the Rain" (Led Zeppelin – 1979) – I wasn't sure what to make of the iPhone Live Photo feature at first but have found it to be kind of fun, albeit a little creepy in some instances. As I played around editing pics for these latest reports I found that I could actually put one of them to use. I was simply snapping the "after" shot to go with the "before" pic I had taken at the parking lot to start the morning but found that the motion revealed plenty about a wet, walk-in adventure. Five miles, deep weeds, undulating terrain, hauling gear, rough footing, 47 bass and a 52-year old body. I'd had a good day, but for me the video loop above also says that I'd had enough. Just plain wore out.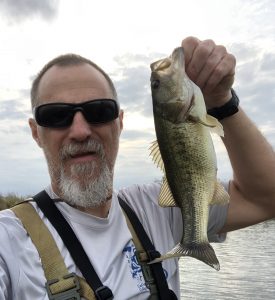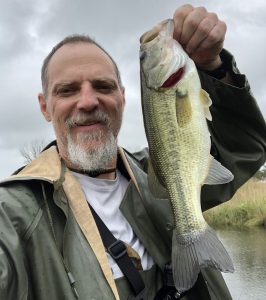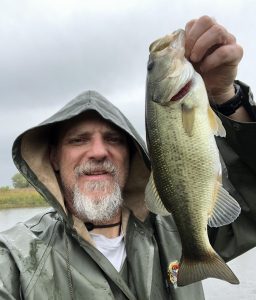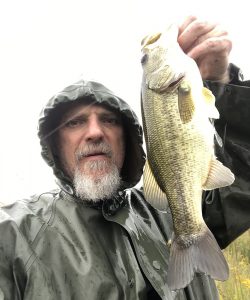 A good representation of how the day progressed from early to late
Anytime I can post a 47 bass morning, I'm good. Bigger fish would have just been icing on the cake. I knew the rain would show up at some point and planned accordingly for the long walk. Rain gear was an obvious choice but I also scaled down to "only" four poles and bare bones on tackle. In fact, in terms of that latter aspect I actually overdid it as I needed only four lures to fool my nearly four dozen bass. Yep, now that I'm not so sore anymore, I'd gladly take another shot at being the fool out there on those strip mine hills. Talk to you later. Troy