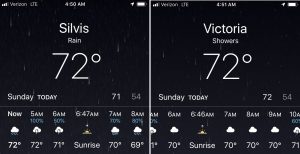 In a bold move, I dared to doubt the weatherman last Sunday and the 90-100% prediction of rain all morning, all afternoon and all evening. Call me a "fool", but for most of my morning on some walk-in strip pits, it actually worked out just fine. And speaking of "fools", I had so much fun with the lyrical fishing report notes last week that I am doing it again. Twice for this outing, in fact. "Fool" songs in today's standard report and a "rain" theme for tomorrow's extras.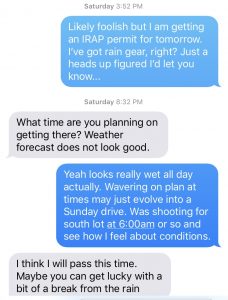 Extended an invite but could not "Find Another Fool" (Quarterflash – 1982)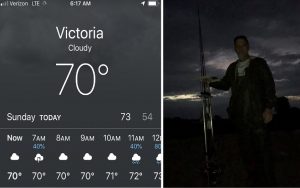 Ready to hike and fingers crossed as it looks like a dry window after all
Stats
Date: September 22, 2019
Location: Knox County, IL public strip mines (5 lakes)
Time: 6:15am-11:50am (4.50 hours fishing, the rest hiking)
Weather: Overcast/breezy/rain
Air Temp: 72-69F
Water Temp: not available
Totals: 47 bass
Lures
Strike King Red Eye Shad (orange craw) – 22 bass
Booyah Buzzbait (snow white shad) – 12 bass
Booyah Blade Spinnerbait (snow white shad) – 11 bass
Zoom Baby Brush Hog (watermelon seed) – 2 bass
Top Bass: 1-13
Top 5 Weight: 7-12 (1-13,1-11,1-11,1-8,1-1)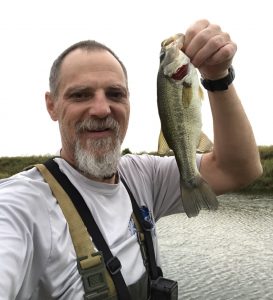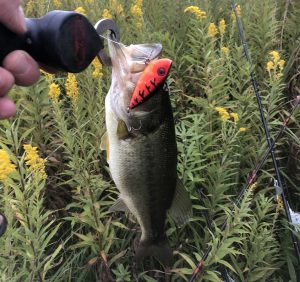 7:03am First bass and 7:46am first "keeper"
Notes and Nonsense
"What a Fool Believes" – (The Doobie Brothers – 1979)
All day Saturday I checked the weather forecast only to find 100% chance of rain every hour from about 4:00am into the afternoon. Tough call but I opted to go for it and lucked into a window of mostly dry skies from my 6:15am arrival until about 10:15am. I'm glad I elected to disregard the weather app and take my chances. Oh, I still got soaked, but I already had about 40 bass in the log by that point.
"What Kind of Fool Do You Think I Am" – (Lee Roy Parnell – 1992)
First off, that is one of those "rhetorical" questions. Anyway, I texted out an invitation on Saturday afternoon to a fellow fishing fool who politely declined as previously noted. And to tell you the truth I was beginning to wonder as well. For while the forecast had shifted towards the dry window noted above it sure was pouring on the drive down. From the I-74 Edwards River crossing until just shy of Galva on Route 17 it was raining so hard that I could barely see the road at times. Fortunately, less than 10 miles to the south there was barely any precipitation despite some ugly skies.
"Poor Little Fool" – (Ricky Nelson – 1958)
Actually, my Red Eye Shad fooled several poor little fools in the 6" range. That says a lot about the predatory instincts of the largemouth bass as these overachievers certainly bit off more than they could chew. One of their bigger brothers was fooled too but made a fool of me within a couple feet of the bank. Yep, the "one that got away", more on that incident in a follow up post.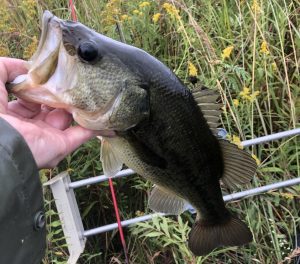 11:11am Top Bass 16″ 1-13 
"Fool If You Think It's Over" (Chris Rea – 1978)
With a Top Bass of 1-13, the quality of my catches certainly left room for improvement. That's been the theme for my 2019 as I just can't find those big bites. In the case of the lakes fished on this trip, three of them had produced over half a dozen bass from 3-0 to 4-6 since 2013. But while I failed to find those quality bites again, it ain't over 'til it's over and I intend to make at least a few more casts before I call it quits on 2019 fishing.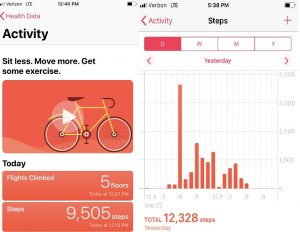 Some final totals beyond the bass (grocery shopping included that afternoon)
"Fool Hearted Memory" (George Strait – 1982)
As time passes I must admit to wrestling more and more with the decision to put these adventures behind and pursue some lower impact fishing. Throw in a saturated landscape that got even more saturated during the last hour and a half of wandering around and those thoughts crossed my mind again. But here I am several days later with the aches fading and a chance to relive the catches via blogging and editing, well, you know the rest.
Back tomorrow with Part II from a fool that doesn't have enough sense to come in out of the rain. Fishing will do that to you. Talk to you later. Troy