Well, we're officially at the halfway point of November and darn near most of it has felt like winter. When combined with family activities there's just been no opportunity for me to chase any November bass. But, hey, that's what "Friday Flashback" is for, so here's an edition from five years ago.
Originally posted 11-19-14
For a number of years now my annual goal is to land my first bass in March and my last bass in November. To some that may not sound like a very tall order but fishing takes a backseat to a lot of other responsibilities in my life so the opportunities can be limited. This year I squeezed in my first bass on March 29 and with what looked like the last shot at decent weather two weekends ago it seemed like now or never for November.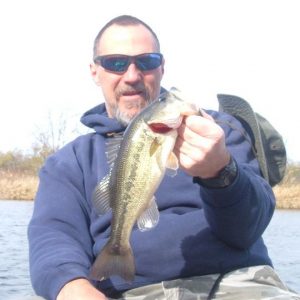 10:57am – On the board with my November bass 12.5″ 1-1 Strike King Red Eye Shad
Stats
Date: November 9, 2014
Location: Knox County private strip mines (5 lakes)
Time: 9:25am-4:40pm (5.75 hours fishing)
Weather: Sunny to partly cloudy/very windy
Air Temp: 43-54F
Water Temp: 45-48F
Totals: 6 bass
Lures: Strike King Red Eye Shad (sexy shad) – 5 bass, Jig & Pig (black/blue) – 1 bass
Top Bass: 3-8 Strike King Red Eye Shad
Top 5 Combined Weight: 10-5 (3-8,2-7,2-3,1-2,1-1)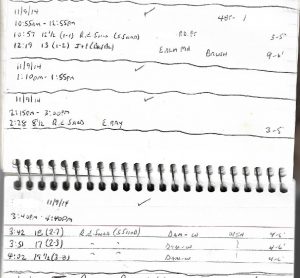 Original log entry from the outing
Notes & Nonsense
Rock n' Roll Ride – Part of what I enjoy on my solo fishing trips is the ride. On this occasion I had roughly an hour drive with just me and my classic rock radio which featured a recent interview with rock legend, Ted Nugent. Man, that dude is still a trip as he rambles on incessantly and entertainingly. Mixed in with the banter was his music both old and new culminating with his homage to bowhunting legend, "Fred Bear", as I reached my destination. I was having such a good time that I left the truck running, the door open and the radio cranked so I could listen to the cut while I drug the boat and gear to my first fishing hole. Boy, classic rock sure beats the Top 40 stuff my girls dig. Those new "hits" with their subtle and not so subtle lyrics make me cringe at times hoping they go over the head of an eight and a ten year old girl. But hey, I wasn't too much older than my girls when "Uncle Ted" was cranking out tunes that weren't really about a feline disease or doing the two step…and I didn't have a clue.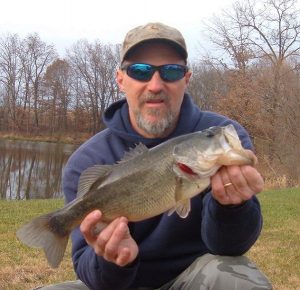 3:42pm – 18″ 2-7 Strike King Red Eye Shad
Boat vs. Bank – The catch numbers on this trip represented an even split on a day where I spent time both in a boat and on the bank. However, the bass/hour ratio certainly was not as balanced. On the four lakes where I pursued the bass by rowing, my three catches came over the course of 4.75 hours (0.63 bass/hour). While chasing bass on foot I matched that total in only an hour of traipsing the shoreline (3.00 bass/hour). So much for the advantage of a boat helping to get to all of those "I wish I could just get over there because I'd be sure to catch one" places that frustrate the shore angler.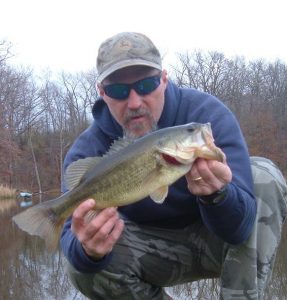 3:51pm 17″ 2-3 Strike King Red Eye Shad
Thank You Note – I owe a debt of gratitude to friend and fellow fisherman, Jim Junk, as he pointed me in the direction of three of my Top 5 this year. For starters, without his advice I wouldn't have posted a 4-13 and a 4-1 on a lake I hadn't fished since 2006. And on this day I ran into Jim and a buddy about noon and he mentioned a spot where he'd had some luck walking the bank. So around 3:30pm I was about ready to call it a tough day and had my boat back in the bed of the truck ready to head home a little early. But Jim's spot was only a few hundred yards up the road and knowing it was my last time fishing this year prompted me to linger a little longer. Within my last hour I had a 2-7 followed by a 2-3 and capped my day with a 3-8. Thanks, Jim, for providing a rousing end to 2014 and putting an exclamation point on my November bass quest.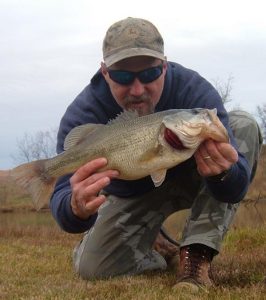 4:02pm – Last bass and Top Bass 19.5″ 3-8 Strike King Red Eye Shad
A Nice Finish – Fortune saved the best for last as my final catch of the day would be Top Bass for the trip. On top of that rewarding aspect of the bite was the fact that the 3-8 knocked a 3-5 from my 2014 Top 5 thus adding three more ounces. It was a cool finishing touch for the year pushing my final tally to 20-14. A far cry from our leading Top 5 creels and in the lower half of the pack but anytime I can post twenty plus it is a real satisfying year on the water.
Strike King Red Eye Shad, a definite cold water winner
So there you have it, my twelfth and final firsthand fishing report for 2014. It's been another enjoyable year on the water, always is. Thanks to my fishing partners for good company and good advice. Thanks to the bass for making me feel like I know what I am doing from time to time. Thanks to anybody out there who tagged along via the blog. Thanks to Mom and Dad for taking care of the kids on occasion so their dad could go fishing. And thanks to Julie for allowing me more than a few chances to cast aside my responsibilities for several hours and go chase bass.
Looks like that November bass may elude me in 2019 as ice has begun to cover my fishing holes already. I'm afraid it's going to be a long winter but I suspect I'll find something to write about along the way. Talk to you later. Troy