Crummy weather, short days and busy weekends had conspired to keep me off the water this November. And the end of the month didn't look to stack up so well for getting a shot. However, a work trip to Wichita, KS that began dark and early on a day with the forecast for a high in the 60s provided for a potential last ditch effort. Read on for a recap with some tunes thrown in for good measure.
Stats
Date: November 19 and 21, 2019
Location: Sedgwick County Park – Wichita, KS (2 lakes)
Time: 4:15pm-5:45pm (11/19) and 11:15am-12:15pm (11/21)
Weather: Partly cloudy/windy
Air Temp: 63F (11/19) and 44F (11/21)
Water Temp: not available
Totals: 2 bass
Lures: Booyah Blade Spinnerbait (bleeding shad) w/ twin tail trailer (pumpkinseed) – 2 bass
Top Bass: 1-9
Top 5 Weight (only 2 bass): 2-11 (1-9,1-2)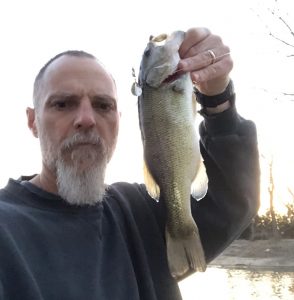 5:32pm on 11/19 – November bass success 14″ 1-2 Spinnerbait
Notes and Nonsense
"But I'm a long, long way from home." – Long, Long Way From Home, Foreigner (1977) – 580 miles to be exact, that's a ways to go to chase that November bass for a wannabe bass fisherman and pro bono blogger. But with my transportation, grub and lodging being covered by my employer I elected to invest a couple after work hours and $29.21 for a non-resident permit in pursuit of a bite.
"Somewhere out there on that horizon…" – In the City, Joe Walsh (1978)
I regularly check out a young YouTuber (Jon B.) who originally hails from Illinois but now works as a vlogger out of the Dallas, Texas area. On occasion he combs Google Maps for urban fishing holes in and around Dallas-Fort Worth and then complies content on his outings. Taking a page out of that book I narrowed the vast Wichita public water offerings down to a half dozen options within 15-20 minutes of my work location. A little overwhelming and even nerve wracking knowing that I'd only have maybe 3-4 hours to fish over the 48 hours in town.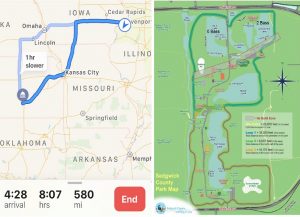 "We're not in Kansas anymore." – Dorothy Gale in The Wizard of Oz (1936) – Strangely, I actually was. While it was odd to think that I was so far from home, once the lures hit the water it was bass fishing as usual. An hour of no bites on the first spot had me a bit worried but I kept looking for the structure that I felt would hold a fish. Riprap in direct sunlight and wind was my all or nothing in the hour and a half I had available before sunset on 11/19. Fate was on my side and at 5:32pm I had my sought after November bass. For good measure a second bass came ashore at 5:37pm for icing on the cake.
5:37pm on 11/19 – Bass number two at 15″ 1-9 Spinnerbait
"Miles and miles of highway with just my radio…" – Radio Land, Michael Martin Murphey (1983)
You know I dig the airwaves and roughly 18 hours behind the wheel did not disappoint. No Top 10 Trip Tunes this time around but here's some highlights.
"I Will Survive" – Gloria Gaynor (1978)- first cut on the trip as I left my driveway at 2:06am and heard it three times which seemed weird.
"Hold the Line" – Toto (1978) – fitting to hear this group on a trip to Kansas (also heard this tune three times)
Kansas – I tuned into a great deal of classic rock on the ride but somehow missed any tunes by this group along the way. If I could have selected a Triple Play by the band originally hailing from Topeka it would be as follows:
"Point of Know Return"
"Play The Game Tonight"
"Carry on Wayward Son"
"Call Me Maybe" – Carly Rae Jepsen (2012) – 8:00pm on Thursday, an hour from getting back home, too many hours of work, too few hours of fitful sleep so, yes, I was actually singing this one out loud.
Oh yeah, and then there was a fair dose of live broadcast and post hearing impeachment recaps. And that's all I have to say about that…
I'd hoped to hit the water the following day (11/20) but rain and dropping temps ruined any shot. An hour on Thursday (11/21) before heading home produced nothing as the temp was dramatically different at 44F as compared to 63F two days prior. My out of state November bass made for a good story and allowed me to achieve my November bass goal but I couldn't help but think of another classic line from Kansas native, Dorothy Gale.
"There's no place like home."
Talk to you later. Troy