What do these guys have in common and why are they making an appearance on an "outdoor" blog?
Well, let me tell you.
We've all heard of, and probably have, lucky or unlucky numbers.
There's also other numbers that hold a special significance.
If you are a music fan perhaps you know 867-5309 or Beechwood 4-5789?
In baseball terms, I've always been fond of 44, 56, 755 and 3,000 to name a few.
And a bit more loosely sports related, there's good old #660, which is where those fellows above come into play. You see, from 1973 through 1977, the Topps baseball set offered up the challenge of collecting a total of 660 cards for your "complete set. That end card in the set, #660, often has a slight uptick in value if found in quality condition. After all, it wasn't quite as protected as all the cards in between it and #1 in that old shoebox.
Here's a brief look at each of the #660 cards from 1973 through 1977 before I actually reveal why I found it appropriate to build a blog post around them.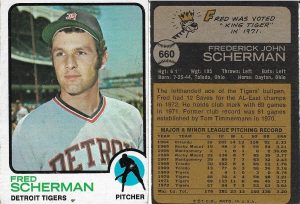 1973 Topps #660 – Fred Scherman
Southpaw Scherman spent seven seasons (1969-76) in the majors with his best years coming in relief for Detroit. In 1974 he was traded to Houston and would wrap up his career with Montreal. A highlight was his 69 appearances for the Tigers in 1971, a club record at the time.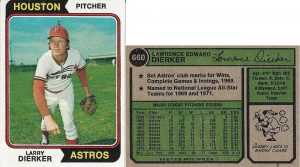 1974 Topps #660 – Larry Dierker
Dierker's MLB career spanned 1964-77 with all but the final season being spent with Houston (brief duty with St. Louis in 1977). Along the way he became the Astros first 20-game winner in 1969 and tossed a no-hitter in 1976. He would later serve as Astros manager from 1997-2001.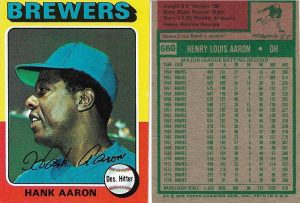 1975 Topps #660 – Hank Aaron
What can you say about the greatest #660 card of all-time? Just an amazing man, home run king and one of my favorite ball players despite only seeing the end of his illustrious career. Did you know that if you take away every homer "Hammerin' Hank" hit, he would still have 3,000 hits? (3,771 hits – 755 homers = 3,016 hits) Interestingly, the 1975 Topps set also featured "Hammer" as card #1. And while we are talking 660, do you know what contemporary of Henry Aaron posted 660 career home runs?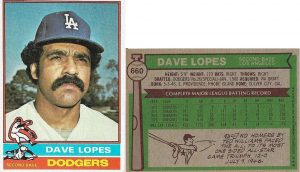 1976 Topps #660 – Davey Lopes
Although Lopes had a turn with my Cubs in the 80s, I will always remember him as part of a solid Dodger infield through the bulk of the 70s. From 1973 through the rest of the decade you would find, first to third, Steve Garvey, Lopes, Bill Russell and "The Penguin" Ron Cey. An adept base stealer, Lopes was also featured on a 1976 Topps Highlight card recognizing his 1975 record setting run of 38 consecutive thefts without being caught.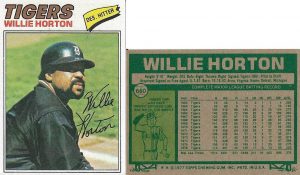 1977 Topps #660 – Willie Horton
Willie Horton always seemed like one of those larger than life characters to this baseball card collecting kid in early to mid-70s. A stout frame, a killer Fu Manchu and tales of some monster homers were all a pretty cool combination. In those days it was tough to see much of my American League baseball heroes until This Week in Baseball came around in the same year that this card was issued. Turns out that my larger than life guy came in at regular guy height of 5'10". However, his impact on and off the field was monumental, particularly in Motown, where he is honored with a statue at the Tiger's Comerica Park.
Well, if you've made it this far, pat yourself on the back for enduring Troy Jackson Outdoors blog posting #660 since setting off on this adventure 1,081 days ago on May 1, 2017. Not too bad of an output if I do say so myself. You know that translates into a "batting average" of .611 for any fellow baseball fans out there. Tough to say on the breakdown of the posts in terms of swinging bunts, seeing eye grounders, Texas Leaguers, doubles in the gap or the occasional dinger. But rest assured, I'm going to continue stepping up to the plate ready to take my cuts.
And since 1,000 is kind of a nice round number, I suppose I'll sign off with a tip of the cap and get back to writing. Talk to you later. Troy