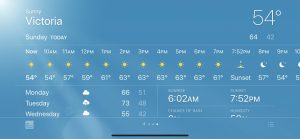 Too busy fishing as of late to keep up with the fishing reports but no complaint there. Here is the first of several headed your way as I attempt to get up to speed.
Stats
Date: April 26, 2020
Location: Knox County, IL strip mines (5 lakes)
Time: 10:05am-3:50pm (4.75 hours fishing)
Weather: Sunny/windy to breezy
Air Temp: 54-66F
Water Temp: not available
Totals: 26 bass, 2 bluegill, 1 crappie
Lures: Rapala Shad Rap (blue) – 11 bass and 1 crappie, Jig & Pig (black/blue) – 10 bass, Chatterbait (bluegill) with Zako trailer (smoke) – 4 bass, Strike King Red Eye Shad (sexy shad) – 1 bass, bluegill on waxworms on jighead hung from a slip bobber
Top Bass: 4-12 (Jig & pig)
Top 5 Weight: 8-11 (4-12,1-1,1-0,0-15,0-15)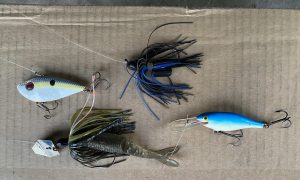 Lures that got it done
Trip Lyric
"So, I'm heading out to the highway, I got nothing to lose at all."
Heading Out to the Highway, Judas Priest (1981)
Having a big fish in the bag and finding it tough to get many other bites, I decided to head to an area that I refer to as The Highway. While not really familiar with the water in that area, I figured it was worth a look. Read on to see if my decision panned out.
Notes and Nonsense
New Records – My Top Bass on this day had been a long time coming as I have struggled for big bites the last couple years. In fact, the 4-12 is my largest bass since a 5-0 landed on July 8, 2017. The 4-12 also establishes a new lake record for a body of water that I call Fencerow Lake, besting the old mark of 3-6 from April 8, 2017. In addition, it is the largest catch (and release) for which I have GoPro footage.
New Water – Being a creature of habit I've become comfortable with my standard collection of fishing holes in the area where this outing took place. And while I've paid my dues and covered a lot of ground, there's still some bodies of water left to explore. After struggling to fool nine bass in the first four hours of casting and roaming, I figured that I might as well invest the time required to reach some distant waters. The decision to relocate was a winner as the new waters produced 17 more bass in just under two hours.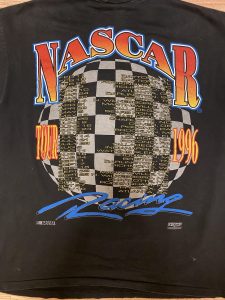 New (Old) Shirt (more to come later in a Lucky Shirt post)
New Catchphrase – I've made a point to leave the whole current state of life in a pandemic out of my blogs for a couple reasons. You can get your fill of that stuff elsewhere whether you want it (or believe it) or not and I have no qualifications to provide anything medically insightful. As an outdoorsman, however, I am puzzled by some of the state recreational areas that remain closed such as Snakeden Hollow and Banner Marsh. I understand that facilities come into play. But let's face it, probably 50 years ago I learned that when you are out in the middle of nowhere (as Snakeden Hollow and other sites are), you don't need a bathroom to use the bathroom.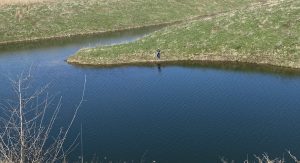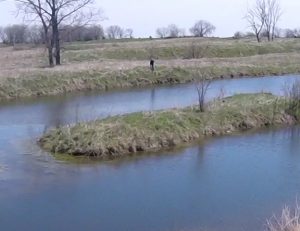 Social distancing on this outing? Not a problem.
Okay, enough editorial. Hope everyone is well and hanging in there as we navigate these unusual times. I have several more fishing reports along with various other items coming your way so stop by here, Facebook, Twitter and YouTube for a regular escape. Talk to you later. Troy