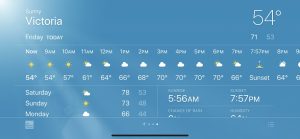 Among the many personal lifestyle changes resulting from the worldwide health concern was a directive to take a few days away from work. At least for this vacation hoarder, the timing was right in terms of stable weather around what would be a five day weekend with plenty of fishing in my sights. Read on for the first of several fishing reports from my mini vacation.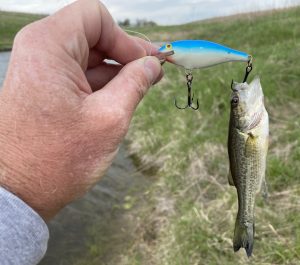 This one gets the nod for bravest bass of the day
Stats
Date: May 1, 2020
Location: Knox County, IL strip mines (8 lakes)
Time: 9:00am-4:00pm (5.50 hours fishing)
Weather: Sunny to partly cloudy/windy
Air Temp: 54-70F
Water Temp: not available
Totals: 38 bass
Lures: Jig & Pig (black/blue) – 11 bass, Rapala Shad Rap (blue) – 10 bass, Senko weighted wacky rig (strawberry cream) – 8 bass, Chatterbait (bluegill) with Zako trailer (smoke) – 5 bass, Strike King Red Eye Shad (sexy shad) – 4 bass
Top Bass: 1-15 (Senko)
Top 5 Weight: 6-5 (1-15,1-5,1-2,1-0,0-15)
Trip Lyric
"On the road again."
On The Road Again, Willie Nelson (1980)
Fishing twice within a week's time can be a rarity these days so this tune was playing in my head as I drove back to the strip mines. It was also exciting knowing that I'd be on the road again over the next several days as well.
Notes and Nonsense
Senko de Mayo – While the Senko wacky rig claimed my Lure Lunacy title last month, I still had yet to catch a bass with the presentation in 2020. Of course, since May and Senko go hand in hand, I didn't waste any time once the new month arrived. In fact, the first cast with a weighted Senko wacky rig was a winner as displayed in the clip below.
Senko Trick #2 – The next clip is a pretty cool demonstration of the effectiveness of the Senko wacky rig on clear strip mine waters. Never have I found a presentation that will tempt a cruising or interested bass as effectively as the tantalizing drop of the wacky rig (both weighted and weightless). The 1-15 catch proved to be my Top Bass of the outing.
Mother's Day Approaching – Here in West Central Illinois you can rest assured that as the calendar nears Mother's Day you will find the local crappie shallow and in the mood to bite. Such was the case on this trip with numerous fish spotted from the bank and several winding up on a hook by "accident." A couple green sunfish also took a liking to my bass offerings and a hooked bluegill got loose at the bank, narrowly preventing me from posting the species "Grand Slam."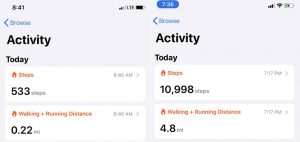 Going the extra yard for some bass (actually 8,448 yards)
Another stellar day in terms of numbers but the smaller bass continue to beat the larger specimens to my offerings. It is encouraging, however, that what I am throwing is producing. In the world of fishing, you just need to keep on casting. And that's just what I did along with shifting gears to fishing guide for another outing. Stay tuned as those reports are headed your way soon. Talk to you later. Troy