NOTE: On this special day, I welcome a guest blogger, my wife and the mother of our brood, Julie. Enjoy.
To quote a dear friend of mine, "It's all about perspective." – Aaron VanMiddlesworth.
Think about it. Today your fishing report is brought to you from a new perspective. A female. A wife. A mother. But then again, is it? An angler. An outdoor person. A spouse. A parent. That's the usual perspective of TJO, right? Let's throw in photographer. There's always piscatorial pics embedded throughout the traditional roving report.
Once upon a time, I took a photography class at Carl Sandburg College. I've always enjoyed taking pictures, but it was inspiring to have to take specific kinds of photos for different assignments for the class. Seeing things from behind a camera lens was creatively appeasing, and I think I captured some pretty interesting images. They were all black and white because I developed my own film and printed the photos myself as well. I loved going to the darkroom, as it was exciting to see what would be revealed on the film and photo paper since I used a manual camera without a digital display to see what the photos would look like before being printed. All adjustments needed to be made before the button was pressed. No delete and reshoot 13 times like with my cell phone pics today.
The point of my photography class recap is to introduce you to a picture I took during that time. You may need no introduction – you may know it very well. It's the one that TJ Outdoors uses on his business cards and YouTube Channel. And it shows what my perspective was back when he and I used to go on outdoor adventures just the two of us. Because there were only two of us.
The picture I speak of is the silhouette of TJ walking up a path packing his tackle and poles headed to a fishing hole. I followed him that day with my camera in hand and just thought my view was a nice perspective of this fisherman. I can't recall now if he knew he was a subject for one of my assignments at the time or if I even used it for class, but it has always been one of my favorites. And TJ must like it ok too if he prints it on his cards. I also don't recollect if fish were fooled let alone specific species or sizes. I know someone who could find out for me though…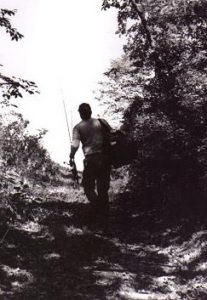 So recently, we took our four children on one of those outdoor adventures and I recaptured that perspective. Of course this time the picture was taken with my cell phone camera with a color digital display, and I snapped several shots as the kids followed their father – all toting tackle and poles up the path to the fishing hole.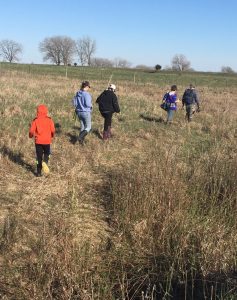 Not only is my photography at another juncture, but so are our outdoor adventures. Now we've always taken our kids fishing, hiking, camping and such. But this time it was different. It had been awhile. I didn't spend the entire morning packing. We didn't have strollers, diaper bags, potty seats, pack and plays or any sort of pint-sized paraphernalia. The kids helped make sandwiches and pack a cooler. Each kid wore his/her own boots and walked the path (or lack thereof sometimes) in them. They even grabbed their own gear for the most part.
That's the moment I was struck with incentive to share my perspective. Again. As I bent down to pick up just my equipment and follow the rest of the crew, I remembered taking a picture of TJ all those years earlier and how the scene from that perspective had changed a bit. I wasn't preoccupied by babies and baggage and just consumed the contentment as I clumsily collected my camera in the form of the cell phone from my pocket to capture the moment in order to share and compare this sight with the image printed on the TJO business card.
It really is all about perspective. Amen, AVM!
Happy Mother's Day everyone.