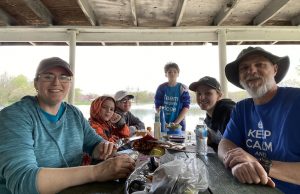 Last weekend presented another opportunity to get the whole family outside for some fresh air, some fishing and a picnic supper. Sticking with my general fishing report format, here is how it all went down.
Stats
Date: May 2, 2020
Location: Little John Conservation Club
Time: Evening
Weather: Partly cloudy/breezy, sweatshirt weather
Totals: 6 bass
Lures: Senko wacky rig, weighted and weightless (various colors)
Top Bass: 0-14 (Carly)
Totals: Girls – 6 bass, Boys – 1 bass
Trip Lyric
"Rock and rock and roll radio, let's go!"
Do You Remember Rock 'n' Roll Radio, The Ramones (1980)
So, our daughter, Helena, is working on the driving hours required to obtain her license this summer. Well, the standing policy is pretty much that the driver runs the radio. As such, this lyric fits the bill for our round trip as the current Top 40 had no resemblance whatsoever to my old "rock 'n' roll radio".
Notes and Nonsense
Lucky Shirts – During a normal May we would be taking part in the annual JDRF One Walk for type one diabetes. A classmate and friend of one of our daughters was diagnosed with Type 1 Juvenile Diabetes in 2011 at age five. Since moving to the Quad City area in 2014 we have joined Team Morgan's Hope for the annual event aimed at raising money and awareness in a quest for a cure. Obviously, this is not a normal May thus the event has transitioned to a virtual experience. For details and donations click here.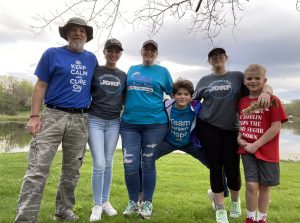 Sporting our collection of Team Morgan's Hope shirts from past JDRF One Walks
Girls Rule – It didn't take long before the whole crew was tossing Senkos looking for a bass instead of wetting some waxworms in search of panfish. And it didn't take long before the ladies did some catching. Carly posted the first bass and also claimed Top Bass among her three catches. Julie took runner-up honors with a pair of bass and Helena posted her first Senko bass. The boys, well, they were a little more distracted but did get on the board just after suppertime. Their lone bass came on the first cast by the fifty something year old boy who first set foot on those strip mine banks over thirty years ago.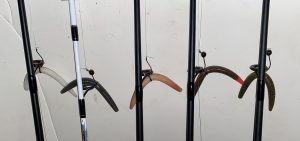 Can't go wrong with these choices from my "clients"
Additional Catches – Beyond the bass, I witnessed anglers catching a stump, a tree and a bridge. In addition, we had major loops and tangles in a couple of our ultralight spinning rigs. The above are reasons us "fishing guides" bring along plenty of spare poles and tackle. Hey, as long as we avoid catching any family members, it's all good.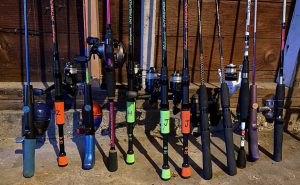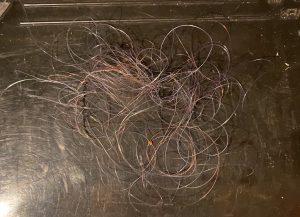 Had to respool a couple reels after this trip
Mission accomplished with some fresh air in these strange and isolated times. My favorite bunch of people to be isolated with and enjoyable when we can do it outdoors. Talk to you later. Troy