It was exciting to get back on the water again on the heels of a 38 bass day two days prior. Warm, stable weather remained and had my hopes high for a repeat performance and hopefully some larger bass. Here's how it turned out.
Stats
Date: May 3, 2020
Location: Knox County, IL strip mines (8 lakes)
Time: 10:10am-3:40pm (4.25 hours fishing)
Weather: Partly cloudy to sunny/windy
Air Temp: 66-70F
Water Temp: not available
Totals: 27 bass, 1 crappie, 1 green sunfish
Lures: Rapala Shad Rap (blue) – 11 bass, Senko weighted wacky rig (smoke or green pumpkin) – 9 bass, Zara Spook (black shore minnow) – 4 bass, Xcalibur XR50 lipless crankbait (chicken pox) – 2 bass, Jig & Pig (black/blue) – 1 bass
Top Bass: 1-11 (Senko)
Top 5 Weight: 6-6 (1-11,1-9,1-3,1-1,0-14)
Trip Lyric
"Take me out to the ballgame, take me out to the crowd."
Take Me Out to the Ballgame – Harry Caray rendition (circa 1984)
My Sunday spring drives to and from the fishing hole used to feature something called a baseball game. I sure do miss Pat and Ron covering my Cubs and bringing some laughs, smiles and informative insights no matter the performance of our team.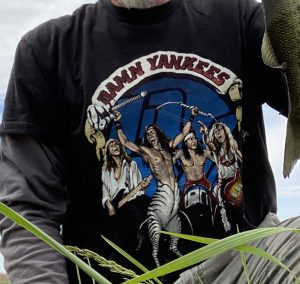 Yes, I had a lucky fishing shirt, have to play catch-up on that project one of these days
Notes and Nonsense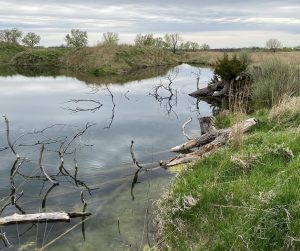 Cottonwood Lake
For Old Time's Sake – There's a spot I call Cottonwood Lake in reference to a large cottonwood tree that used to tower over the water's edge. It now lies at water's edge and into the lake. It used to be chock full of little bass and was the site of a September 2013 project regarding "Misfit Lures." The challenge was to see if those bass were so dumb that they would bite a batch of less than successful lures that I'd amassed over the years. The bass were completely clueless as they bit with reckless abandon. Fast forward to 2020 and the population still isn't too bright and still quite small..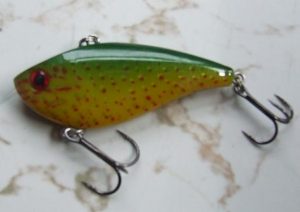 Entertainingly named Chicken Pox pattern (by the manufacturer, not me)
Ill Lure – While the current situation is nothing to take too lightly, at this point of the pandemic I can certainly do with a little humor. So to amuse myself, I ditched my regular Strike King Red Eye Shad lipless crankbait in favor or an XR50 model from Xcalibur. The sole reason being that the XR50 color pattern is something called "Chicken Pox." And what do you know, it even caught me a couple bass. Perhaps this summer I'll dig out my topwater frog in the "Measles" pattern.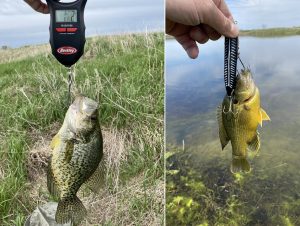 A couple "accidents" reeled in along the way
Topwater Time – Several decent weather days in a row, a shallow lake and some cloud cover prompted me to break out a Zara Spook. I don't throw this thing like I used to back in the 80s and 90s but my "Lure Lunacy" project earlier this year got me feeling a bit nostalgic. Turns out it still gets the job done which really didn't come as much of a surprise. Maybe it will get a bit more of a workout as the year progresses if I can put down the buzzbait for a while. Video below of one of the Zara Spook catches.
Lake Record – My strip mine fishing features a vast collection of waters and being a data guy, each one has a "lake record." Now some records are more impressive than others but all still represent the largest bass to come out of the fishing hole. On this outing, the Cedar Lake record of 1-4 fell to a bass that I had seen cruising some open areas in the weedy, remote body of water. I don't suspect that the bass in such spots see many lures so a Senko tossed out in the vicinity got the attention of the fish which tipped the scales at 1-11. See video of the catch below.
Another successful day of strip mine trekking featuring catches from some spots that don't normally show up on my standard hiking route. A couple spots I may visit again in 2020 while others were simply a stop to say "Hello" for old time's sake. Either way, they all proved worthy of a few casts. Talk to you later. Troy