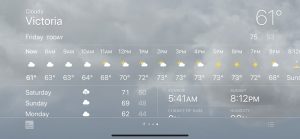 After some odd and unseasonably cool weather, a warming trend for this outing was sure welcome. As far as wishes go though, I wish it would have been the second day of the trend as opposed to the lead-in. Gotta go when you get to go and I was certainly glad to get another day on the water when I was supposed to be at work.
Stats
Date: May 15, 2020
Location: Knox County, IL strip mines (7 lakes)
Time: 7:20am-3:15pm (5.75 hours fishing)
Weather: Overcast to partly cloudy/windy
Air Temp: 61-75F
Water Temp: not available
Totals: 19 bass
Lures: Booyah Buzzbait (bleeding shad) – 7 bass, Strike King Red Eye Shad (sexy shad) – 4 bass, Zara Spook (frog) – 3 bass, Mann's Baby 1- Crankbait (red craw) – 2 bass, Jig (green pumpkin) with craw trailer (pumpkinseed) – 1 bass, Senko weighted wacky rig (strawberry cream) – 1 bass, Chatterbait (bluegill) with Zako trailer (smoke) – 1 bass
Top Bass: 2-8 (Red Eye Shad)
Top 5 Weight: 9-10 (2-8,2-3,2-1,1-7,1-7)
Trip Lyric
"I've paid my dues, time after time."
We Are The Champions – Queen (1977)
I continue to struggle to find quality bites on this batch of walk-in strip mines, a trend going back several years. I encountered a fellow on this trip and he informed me that "all the good bass have been hauled out of here." Sounded good but later got a text and pic from my friend, Jim Junk, with a 3-8 bass. Perhaps it's the fisherman and not the fishing holes.
Notes and Nonsense
Sporadic Bite – It was a weird day on the water as it was tough to get a lasting bite on any one lure. During one 20 minute period I fooled six bass on a buzzbait (all quite small bass by the way) and then nothing on the lake for the next 40 minutes. My final stop lasted two hours but I caught all four of my bass on a Red Eye Shad within the span of 33 minutes. Before that it was 50 minutes without a bite and after the flurry it was nearly 40 minutes without a strike. Those two windows accounted for 10 of my 19 bass in less than an hour while the remaining 5 hours resulted in 9 bass.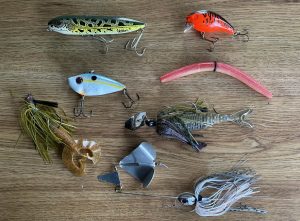 Took quite a variety of offerings to find some interested bass on this outing
Lucky Number 7 – In trying to find something to consistently interest the bass, I went through a batch of lures. When all was said and done, seven different lures fooled at least one bass when covering the water column top to bottom and moving fast to slow. The only lure that I threw without fooling a bass was my Shad Rap and it was only employed for a handful of casts.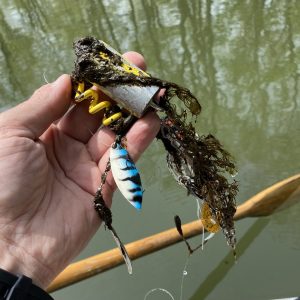 Don't leave home without your lure retriever
Close Call – At one point, I got my Blue Glimmer spinnerbait hung in a submerged tree limb in about seven feet of water. Fortunately, it occurred during the boat portion of my day so I was able to employ my trusty lure retriever to save the legendary bait. It took quite a few bumps with the weighted tool and had me worried but the old lure retriever came through yet again. That thing has saved me many dollars over the years. And perhaps a swim or two as may have been the case with the Blue Glimmer.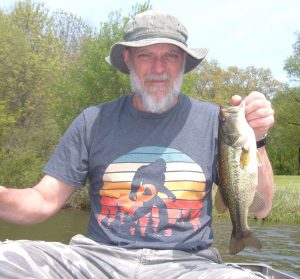 Another trip, another lucky shirt, another story, another time…
May has been an interesting month on the water as I have managed to get out much more often than usual. Typically I may have had one or two shots the entire month but this trip marked my sixth outing for May either solo or with the family. And let's just say, the month ain't over yet…Talk to you later. Troy