Guess what "officially" turns 30 years old in just a few weeks.
Why, Snakeden Hollow, of course.
The old Knox County collection of fishing holes holds plenty of memories for me, my brother and my dad. And today's flashback happens to be one of those memories. My biggest bass from the area, nabbed on a Zara Spook, 25 years ago this week.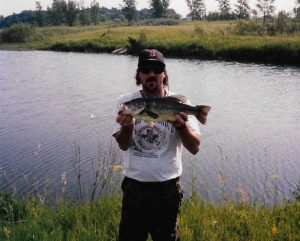 It's a little weird to me looking back. So many pictures grace the internet these days where you have no idea how big the fish truly is based on the camera angle, the proximity of the bass to the lens and the integrity of the angler.
No matter, not for me to question or judge. I just enjoy the pictures and reports and leave the scrutiny to others who feel the urge to add their two cents.
So, my biggest Snakeden bass came in at 5-2 although it sure doesn't look like it one of the pics. This one could raise an eyebrow, even for the guy who caught it as he looks back 25 years later. But I've landed, measured and weighed thousands of bass over the years and never once felt the need to stretch one. After all, nearly all of them are meticulously documented in a collection of fishing logs dating back 35 years.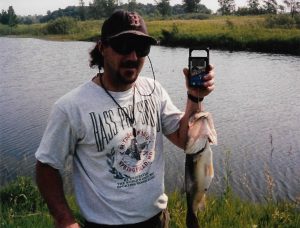 Fortunately, my brother, Brent, was along on this day to snap a shot with the scale in view. Zooming in, the display indeed reads 5-2, so no funny business going on with my trophy (released as always).
Another weird aspect of this catch is that I caught it on a spot that I would initially name Spook Lake after the lure that fooled the bass, the Zara Spook. In the 25 years since, I have never caught anything remotely close to this bass out of this pothole. I believe my runner-up comes in at 1-15. Due to the lack of future quality catches I even went so far as renaming the lake. Along with it's somewhat linked companion, the fishing holes now bear the names of Upper and Lower Twin Lakes.
Just a strange catch all the way around and one I'll always remember. That's today's story and I'm sticking to it. Talk to you later. Troy