Circumstances dictate that the Top 5 Update shows up a day early this time around. No worries, all good here at blog headquarters, just some busy days ahead. Yes, I do more than just fish and camp and then sit around and blog all day. Although that setup would be nice. And speaking of nice, we have a solid batch of fish to add to the database.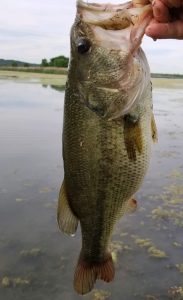 Weight: 4-1
Angler: Jim Junk
Date: June 8
Location: Banner Marsh
Lure: Texas rigged Senko
Angler Comments: Hitting almost everything I threw, frog, creature thing, wacky Senko and Texas rigged Senko.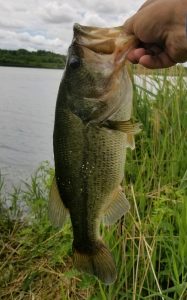 Weight: 3-2
Angler: Jim Junk
Date: June 10
Location: Banner Marsh
Lure: Creature
Top 5 Weight: 18-5 (4-1,4-1,3-8,3-7,3-4) culls 2-12
Other Species – Tiger Muskie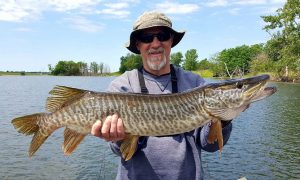 Weight: 12-12 (36")
Angler: Troy Jackson
Date: June 13
Weather: Partly Cloudy
Water Temp: 74F
Location: Peoria County private lake
Lure: Strike King Red Eye Shad (sexy shad)
Structure: Hump
Angler Comments: In what would turn out to be my last cast of the morning I wound up with something other than the bass I was targeting. Sure was an exciting "accident" that dove under both motors and had me walking the length of the boat. More to come on the catch at a later date in the full fishing report.
Top 5 Weight: 12-12/Top 5 Length: 36"
Well, that was fun and hopefully will tide everyone over for a bit until the Friday Flashback, which may actually be a Saturday Flashback. At any rate, have no fear as there are still plenty of fish stories and more to tell, just limited time for composing and editing. Talk to you later. Troy