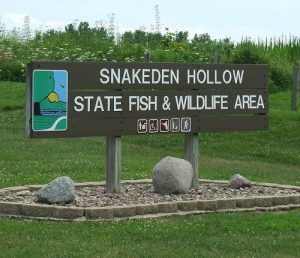 Happy birthday to a fishing area that turned 30 years old earlier this week. Well, at least in terms of public access as Snakeden Hollow State Fish & Wildlife Area opened up for all to enjoy back on July 1, 1990. To mark the anniversary, I've decided to put together a batch of posts about that old collection of strip mines and spoilbanks.
It is fun for me to look back on that July 1, 1990 "Grand Opening" as I was actually a small part of that event. From May 1 to November 1, 1990 I worked a six month temporary job with the old Illinois Department of Conservation, several months of which were spent at Snakeden. Believe me, the site has come a long way in the interim and that is part of what I intend to explore as 2020 rolls along. I kind of have plan for this series but not really a set schedule, so I guess just expect some "Snakeden at 30" posts to pop up from time to time.
We'll start with a brief primer here consisting of some general information on the history and features of the property.
Snakeden Hollow is located south and east of Victoria, Illinois (a satellite property, The Victoria Pheasant Habitat Area, lies to the northwest of town). The Snakeden Hollow parcel of land consists of roughly 2,500 acres and was obtained by the State of Illinois from the Midland Coal Company in 1987. According to the Illinois Department of Natural Resources website, Snakeden contains "125 water impoundments totaling 400 acres" adding that "more than three dozen of the lakes and ponds are actively managed for their fishery."
Lake McMaster is by far the largest of these bodies of water at roughly 160 acres and is the only lake with a boat ramp. All other lakes are accessible from peripheral parking areas but only on foot or perhaps bicycle (no motorized vehicles).
A wide variety of species inhabit these lakes including largemouth and smallmouth bass, bluegill, redear, muskie, walleye, crappie, green sunfish, channel catfish and bullhead (trout have also been stocked in Lake McMaster at times). In regards to who swims where, it is all rather confusing and I would suggest consulting site personnel, fisheries staff or wandering the internet to get the lowdown.
It is definitely an interesting place and it can sure give you quite a workout if you so desire. Hunting is also offered and much to my chagrin, the site shuts down to anglers during goose season. A lot has changed at the site since I had the privilege of seeing it in its infancy as we'll see over the course of the coming posts. While some days on the water are better than others, that's fishing for you and the place has kept me coming back for thirty years.
In fact, I've been back twice this week. Stay tuned…Talk to you later. Troy