Earlier this week I paid a visit to an old friend for a birthday celebration. It was the first time we'd seen each other since last October but like all old friends, we picked up right where we left off. In fact, it only took four casts before I was greeted with a bass. A great start and the hits kept on coming before things got a bit ugly on the exit.
Stats
Date: July 1, 2020
Location: Snakeden Hollow (4 lakes)
Time: 5:20am-11:35am (4.00 hours fishing)
Weather: Partly cloudy or overcast/breezy to windy
Air Temp: 70-79F
Water Temp: no reading
Totals: 34 bass
Lures: Booyah Buzzbait (snow white shad) – 17 bass, Strike King Red Eye Shad (sexy shad) – 15 bass, Chatterbait (bluegill) – 1 bass, Senko wacky rig () – 1 bass
Top Bass: 4-0 Buzzbait
Top 5 Weight: 12-14 (4-0,3-11,1-15,1-14,1-6)
Trip Lyric
"Can't afford a blowout 'cause we haven't got a spare."
Sausalito Summernight, Diesel (1981)
A wonderful one hit wonder sums it up quite nicely as my boat transport setup gave out on me big time. As a result, I wondered if I would get my boat back to the truck and along the way began to wonder if I was going to make it as well. Further details below.
Notes and Nonsense
Personal Lake Record One (video below) – Twelve minutes into casting I had my third bass in the boat, a four-pounder which represented my Top Bass from this particular lake. And while not an overall lake record, such a catch will sure make your day. Our lake record is a 4-12 caught by my brother, Brent, last October and I was fortunate to have had a front row seat for that one. As far as a potential true lake record, I am aware of a seven-pounder from the spot in 2015. All of the above were released, by the way.
Personal Lake Record Two (video below) – On my final stop of the day, I was able to establish a lake record of 3-11 besting the previous mark of 2-15 that I landed in July 2012. This one was also rewarding as I had spotted the fish cruising among some shoreline sticks and was able to tempt it with a Senko wacky rig tossed out in front of its path. Always cool when something like that works out and makes you feel like you know what you are doing.
Fun Fact – As I have been fishing Snakeden Hollow for its entire public access, it is interesting when I consider how much the site has changed. For instance, on this outing, 20 of the 34 bass that were landed came from a pair of lakes that did not even exist 30 years ago. One was a rather lifeless depression in the terrain while the other was an expansive, nasty, shallow, slurry wetland. Kudos to those onsite personnel and fisheries staff that have transformed the once decimated landscape into a couple quality fishing holes.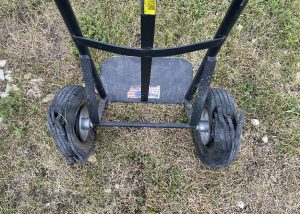 Well, Goodbye, Dolly – I've seen various contraptions used to transport small watercraft into the remote waters of Snakeden and some are rather impressive. Mine, not so much, although the two wheel dolly has performed quite well during a batch of trips over the last three plus years. On this day, however, both tires blew and made for a real drag of a drag as I was a long way from my truck when disaster struck. I am not sure what lies in store as a remedy but I was back on my bike and beating the bank just like old times on my next visit.
But that's another story. Talk to you later. Troy