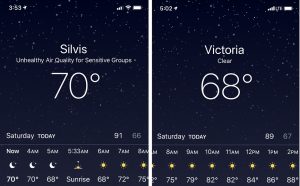 On the heels of an interesting July 1 adventure to celebrate Snakeden's 30th birthday, I was back for more with a day off on The Fourth. This time around I also had my bicycle and my brother in tow.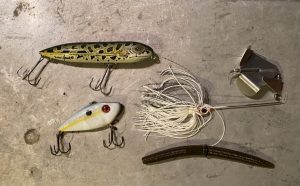 Winning Lures
Stats
Date: July 4, 2020
Location: Snakeden Hollow (6 lakes)
Time: 5:10am-10:00am (3.50 hours fishing)
Weather: Sunny/calm
Air Temp: 70-84F
Water Temp: no reading
Totals: Troy – 12 bass, Brent – roughly 10 bass
Lures (Troy): Senko wacky rig (smoke) – 8 bass, Zara Spook (natural frog) – 2 bass, Booyah Buzzbait (snow white shad) – 1 bass, Strike King Red Eye Shad (sexy shad) – 1 bass
Lures (Brent); Senko wacky rig – about 8 bass, Emiquon Special spinnerbait – 2 bass
Top Bass: 1-6 Zara Spook (Troy)
Top 5 Weight (only 2 at 12" or better): 2-11 (1-6,1-5)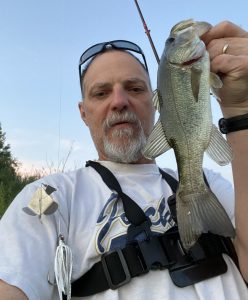 5:22am – first bass 11″ on a buzzbait
Trip Lyric
"I want to ride my bicycle, I want to ride my bike" – Bicycle Race, Queen (1976)
Well, actually, I kind of had to go back to the old bike and hike route after my boat transport setup gave out on the previous trip. And with the old Trek in tow, well it was, you know, just like riding a bike.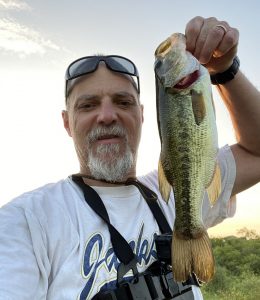 5:56am – Top Bass Runner-up 14.5″ and 1-5 on a Zara Spook
Notes and Nonsense
66 Years and Counting – It's hard to believe that my brother, Brent, and I go back a combined 66 years in terms of fishing the waters of Snakeden Hollow. Our first shot was back on July 1, 1987, three years before the site opened for public access but that's another story for later in the ongoing Snakeden celebration. Tough to process but I did the math a few times to verify 66 years of combined experience. Since we were teenagers in 1987 and now in our fifties, I guess it all adds up.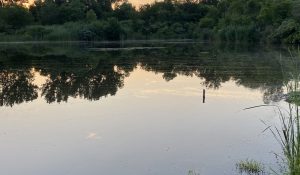 Buzzbait trails on the water (center) show the limitations of bank fishing, lots of untouched surface
Buzzkill – I've got a thing about buzzbaits and admittedly throw them more than I should on some mornings. Visions of explosions and the potential for that one big bite still dance in my head and cloud my decision making some 35 years after fooling some bass on the old Bass Pro Shops inline bait, the Uncle Buck's Buzzer. This particular morning was not the best for such a presentation and getting my first bass on a buzzbait at 5:22am didn't help matters much. I stubbornly kept tossing the lure hoping for more but no such luck.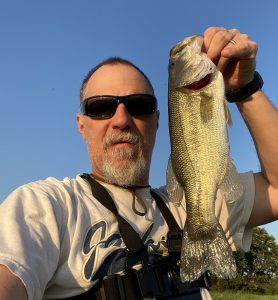 6:23am – Top Bass 15″ and 1-6 on a Zara Spook
One That Got Away – I had a three-pounder hooked at a spot where I had about a shoulder width access to the lake amidst the ten foot reeds that ringed the fishing hole. Part operator error with my drag too tight and part restricted mobility cost me in breaking off on my standard 10-pound mono. However, it was an interesting reveal as I have never seen a bass even close to that size swimming in this lake. I'll be back…with a machete and properly adjusted drag.
There's a lesson (or maybe two) in this exchange
Don't Text & Fish? – The one that got away represents a valuable lesson that I have long had trouble learning. A friend and I were exchanging texts with me detailing my results while he was giving me the scoop on the current Lake Storey crowd. So, I fired out my Senko and decided to tap out a text as I let it drop through the water column. After a sentence or two I picked up the slack only to find a pull on the other end which resulted in the eventual breakoff after a brief battle. Unfortunate result but once again reiterating that I need to slow down and let the Senko sink rather than getting antsy to reel and twitch.
This trip took some work to find our fish and we admittedly struggled. But such is fishing and while rather hot and occasionally frustrating, you can't beat time on the water no matter how "experienced" you are. In fact, even after 33 years of Snakeden casting, I learned something new. And that's a big part of what keeps me coming back. Talk to you later. Troy