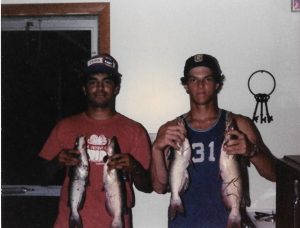 July 5, 1985 – Sperry's Pay Ponds catfish in Mom's kitchen with my old buddy, Arnie Gonzalez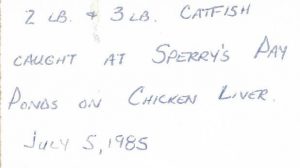 The back of the above photo
Today's entry pertains to a group of fishing holes just north of Galesburg known as "Sperry's Pay Ponds". Somehow or another, during the summer of 1985, somebody in our fishing crew got wind of this batch of pay fishing holes that held a solid catfish population. I believe it was a $2 entry fee and then some dollar amount per pound of catfish you wished to haul home.
The bite was usually pretty good for small fish early in the evening but when Mr. Sperry showed up to feed the fish, things got real interesting in a hurry. Mr. Sperry would arrive with a five gallon bucket and proceed to beat on the bottom. These vibrations would get the bigger fish riled up and they would begin boiling the surface like piranhas in some old horror movie. He would then chuck a few batches of catfish food pellets into the lake and it was on. A tiny piece of chicken liver on a single hook tossed into the frenzy was immediately met with a strike from what was generally a higher quality fish. The craziness only lasted for a few minutes before the bigger fish had their fill and we were back to catching "fiddlers" (nickname for smallish catfish that often just "fiddle" with your bait and prove difficult to hook).
Original log entries from July 1985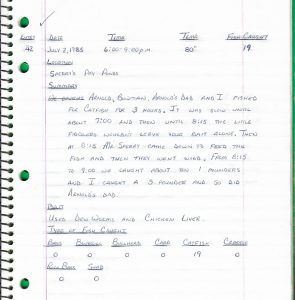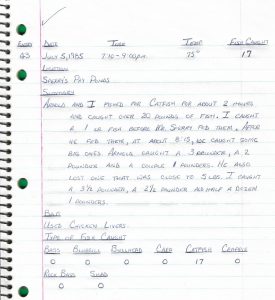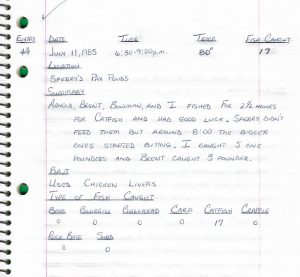 It still brings a smile all of these years later imagining the boiling surface on one of those lakes lined with a batch of entertained anglers. And to this day, I still kick myself for not bringing along my own bucket to fool those fish into thinking that dinner time came a little early. Duh!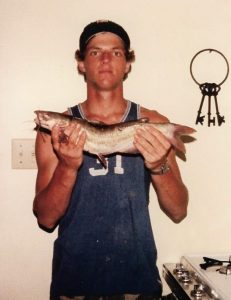 July 2, 1985 – Sperry's Ponds
In November of 2017, I saw that Mr. George Sperry has passed away at the age of 87. While I don't recall having many words with Mr. Sperry as we enjoyed the bounty of his fishing holes, I sure hope that our enthusiasm spoke for itself. Talk to you later. Troy