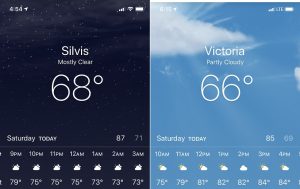 With no fish submitted for a Top 5 Update this week, I will instead use Monday to catch up on an overdue fishing report. For this outing it was back to some old stomping grounds that I had neglected since mid-May to see if the bass had missed me.
Stats
Date: August 8, 2020
Location: Knox County, IL strip mines (3 lakes)
Time: 6:15am-11:50am (5.00 hours fishing)
Weather: Partly cloudy/breezy to windy
Air Temp: 66-81F
Water Temp: not available
Totals: 25 bass
Lures: Strike King Red Eye Shad (sexy shad) – 14 bass, Booyah Buzzbait (snow white shad) – 4 bass, Strike King Vibra Shaft Spinnerbait (blue glimmer) – 4 bass, Senko wacky rig (white) – 3 bass
Top Bass: 2-3 (Blue Glimmer)
Top 5 Weight: 9-3 (2-3,1-13,1-13,1-12,1-10)
Trip Lyric
"When the lights go on at Wrigley Field, I'll be coming home to you."
Don't Wait on Me – The Statler Brothers (1981)
As this trip occurred on August 8, it was the anniversary of the first Cubs night game at Wrigley Field on August 8, 1988. While that game got washed out in the fourth inning, my fishing trip went off without a hitch.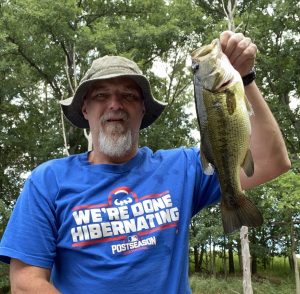 Lucky Cubs shirt comes through in the late innings
Notes and Nonsense
No Panic When Tannic – Typically during this time of the year I can get a productive sunrise topwater bite, especially when I have some cloud cover and light chop on the water. Both of those conditions were in my favor just after dawn to start this trip. However, the first two lakes that I fished were unusually tannic and the bass in those tea colored waters just never turned on to my topwater offerings. But adaptation is the name of the game in dealing with the numerous variables that a day on the water offers. In this case, the commotion of a lipless crankbait was a winner in the dingy conditions.
Did get a few on a buzzbait including the exciting strike below
Winning Wind & Water – While I did manage a respectable haul of twenty one bass from the less than ideal stained waters, I just couldn't find much in the way of quality bites. Only three of those nearly two dozen fish made the twelve inch mark and Top Bass to that point was a long and gaunt 1-13. I then pinned my hopes on a final stop to take me from late morning to noon on a spot that I hoped had some cleaner water. My hopes were realized in terms of water clarity and I also benefitted from an uptick in the wind which added some surface chop. Those conditions on this particular lake often produce a solid spinnerbait bite regardless of the season. In my final hour and fifteen minutes, the lake came through with four bass ranging from 1-10 to 2-3, all on my old faithful Blue Glimmer spinnerbait.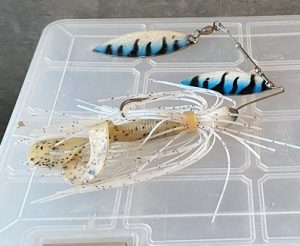 Blue Glimmer spinnerbait – 30 years old and still getting it done
A struggle at times, but in the end, a good day on the water. Much needed too as it was my first legitimate shot at the bass since the Fourth of July (did have a late July lunch hour pit stop in southern Illinois on the return from a Georgia work trip). In addition, it was a brief but welcome escape from the hustle and bustle of work, the daily upheaval related to this confusing pandemic and the steady, confounding stream of unrest and bickering seemingly everywhere you turn.
By the way, I understand that The Statler Brothers later substituted "When they put a dome on Wrigley Field" to address the fact that the lights had finally came on at The Friendly Confines. Here's hoping that the following lyric will not need to be altered in future renditions:
"When they unfurl Old Glory and no one stands and cheers."
Talk to you later. Troy