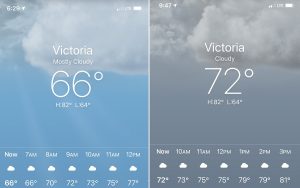 It was good to get another shot at the strip mines with my brother, Brent, this past weekend. Weather was solid, the bite was solid, and a handful of the fish were solid. Read on for the scoop.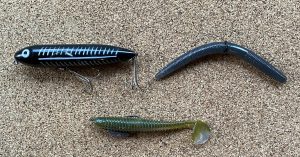 Stats
Date: May 23, 2021
Location: Knox County, IL public strip mines (7 lakes)
Time: 6:45am-11:25pm (4.00 hours fishing)
Weather: Overcast/breezy
Air Temp: 66-75F
Water Temp: not available
Totals: 34 bass (Troy – 17, Brent – 17)
Lures: 5" Yamasenko wacky rig (various colors) – 23 bass, Spinnerbait (white) – 8 bass, Bass Pro Shops Speed Shad (small mouth magic) with Berkley 3/0 weighted swimbait hook – 2 bass, Zara Spook (black shore minnow) – 1 bass
Top 5 Weight: 9-13 (2-5,2-0,2-0,1-13,1-11)
Notes and Nonsense
Condition Pros and Cons – The weather was about as good as it gets in my book for some strip mine fishing. Plenty of cloud cover and a little chop on the water is a winner on these clear waters. Water conditions, however, were a little tough. Shallow weeds have taken over nearly all the spots we fish making for a challenge in getting some lures to the fish and getting hooked fish to the bank. You rarely have it all in fishing, so you just take what Mother Nature gives you and find out what the bass want from your arsenal. Overall, we did a solid job but there were extended stretches without a bite and probably a 70/30 split in favor of "non-keeper" (under 12") bass.
Odd Bass #1 – Several bass that I landed had some odd characteristics, one more odd than the others. First up, is what I call a "notched" bass. I have caught several from this location, but I believe that all prior catches have come from one, specific lake. The fish above right was caught on a different body of water from the others. I am not sure what causes such a feature, but it does not seem to have any effect on the observable health and fight in these fish.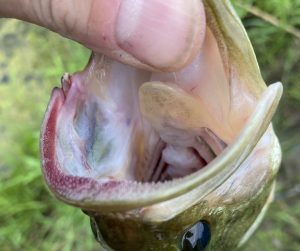 Odd Bass #2 – The next odd-looking fish had damage to one corner of its mouth and a reddish hue to the upper lip on the same side. I suspect that the injury may have been the result of having been hooked before with the reddish hue being some sort of residual effect. I truly am not sure of the cause of the appearance, just speculation on my part. However, I have observed bass exhibiting red upper lips in colder water but the characteristic in those instances was spread across both sides of the upper lip. As with all things fishing, I am open to any input from readers.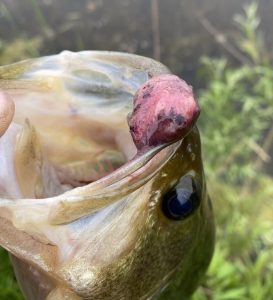 Odd Bass #3 – The final specimen was the strangest of the bunch and the large red growth on the upper lip was something I have never previously seen. Even with some brief internet searching as I composed this post, I am none the wiser. I will say it was kind of gross and left me thinking, "Do I really want to lip this one" even though the natural handle on a bass is the lower lip. I can also tell you that the bass was still on my mind as I unwrapped and ate my sandwich on the way home.
We did the dual GoPro thing again on this trip, but I continue to have trouble finding time to invest in editing the footage for my YouTube channel. Perhaps one of these days but I expect that the fishing trips and footage will keep piling up in the meantime. No problem, I fished for many, many years never dreaming that I would even have the means to make my own "fishing show." Talk to you later. Troy