I was back in Galesburg last Saturday to pay my respects to a former coach and early fishing mentor, Gary Bruington. The passing of the longtime Galesburg High School teacher and baseball coach prompted plenty of reminiscing, some of which comprises today's post.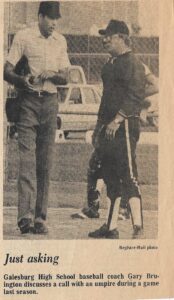 "Bru" in action
Affectionately known as "Coach Bru" or just "Bru," he was my coach on the diamond during the 1983-85 baseball seasons. I recall an instance during the start of the 1983 season when I was a member of the sophomore squad. I showed up in the gym on a March game day in my uniform all ready to go. This caused a fair amount of razzing from a handful of teammates and varsity players. You see, it was snowing outside and rather obvious that there wasn't going to be a game on that Saturday. Bru stepped in and told the hecklers to knock it off stating that he supported my approach in showing up ready to play. His words went a long way towards soothing my embarrassment and perhaps contributed to enough varsity playing time later in the year to earn a letter.
It wasn't just baseball where Bru offered support and advice. In those days, Bru was also quite an angler, and I was just catching the bass fishing bug. Sitting in his classroom one afternoon after school had been dismissed, he presented me with my first spinnerbait. Being a novice angler chasing panfish with Beetle Spins, that gaudy bait looked more in tune to deep sea fishing than something that would fool those little bass I had previously caught on accident. He instructed me on how, when, and where to throw it, and what do you know, it was a winner on bigger and better bass.
Bru also showed me how to rig up a Texas rigged worm and proceeded to take me on a fishing trip at Oak Run for firsthand experience. It was my first time ever in a real bass boat, complete with a white-knuckle grip as he zipped around the lake. We stopped to work a "secret" brushpile on a point and Bru made it look easy as he fooled several bass. On the other hand, my offering came up empty.
But I learned. Not only how to rig and work a worm but also that Bru's teaching extended beyond the field and the classroom.
August 14, 1985 fishing log entry
Whether he felt sorry for me or enjoyed my company on the water, Bru invited me back in his boat again that summer along with a teammate, Joe Dennis. Those trips were combined fishing and water-skiing outings. Bru hauled us around the lake coaching us on getting up on those skis with Joe being a natural and a bit more vocal than yours truly. You see, both Joe and Bru were competitive and more than willing to engage in a little trash talking. Joe continued to dare Bru to increase the speed, try to dump him, and even taunted him by putting the rope handle between his teeth as he sped behind the boat. I believe Joe came out on top, remaining upright and not loosing any of his pearly whites. The downside of Joe's antics was that Bru subjected me to similar punishment despite me keeping my mouth shut beyond laughing at their battle of brawn. We all survived, but I swear by the end of the skiing portion of the trip, Bru was trying to kill us.
We then started fishing as Bru shifted gears to a considerably lower impact level of teaching. Joe and I just spoke about this adventure at Bru's service last Saturday and he reminded me that he and Bru caught fish while I got shut out. Joe said that he didn't even want to fish, preferring to keep skiing, and still outfished me. I reminded Joe that despite being the toughest person I've ever known, I always had to take off his fish. In fact, the only way he would touch them was when he wore an old leather glove. That aspect of our fishing history still brought a laugh with Joe fully admitting that he had no desire to handle a fish without "The Glove."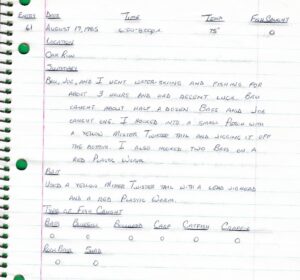 August 19, 1985 fishing log entry
I also had to bait Joe's hook back in the day as he didn't like worms either. Which brings me to one of the oddest comments I ever heard from Bru. During a wet, spring baseball practice, a couple of teammates got to chasing Joe around with dew worms that had emerged from the saturated ground. Having seen enough, Bru hollered out, "You guys leave Joe alone!" Now understand, Joe had given most of us some grief over the years via trash talking or a bit of physical play on the diamond, grid iron and basketball court. Therefore, it was quite strange hearing Bru tell those guys to give Joe a break. As for me teasing Joe, I always refrained as I knew that sooner of later you had to put down the worm.
Bru left us with plenty of stories and had his share to tell as well. One final outdoor bit took place as we drove back from an Oak Run trip in the fading daylight. We were riding in his old light green van and Bru noted that he'd seen a black panther cross in front of his vehicle one night as he drove the same road. Local black panther tales were familiar to me from reported encounters at another Knox County stomping ground, Lake Bracken. However, this was the first one I had heard from an eyewitness. Bru was a seasoned outdoorsman, so I had no reason to doubt his tale. Bru was also known to pull your leg. Almost forty years later, I'm still not sure which direction he was going on that drive.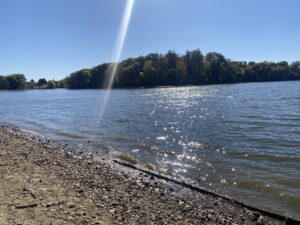 Shot this pic at Lake Storey after Bru's service. Many years ago he showed me a bridge and a hump in this stretch of the lake.
Bru was a great teacher, coach, mentor, and man. He was also a great motivator. An old trick he used on the ball field to get you back on track or to get your head in the game was to call you by your mother's name. I can still hear him yelling, "Come on, Joyce!" after I did something that did not meet his expectations.
Mom crossed paths with Bru about a month ago and had a short conversation about the good old days and how our families were doing. She said his mind and delivery were the same old Bru, but he looked tired and frail. No longer suffering now, I hope he can enjoy a place where the umps nail every call, the big ones don't get away, and he and Alice enjoy leisurely strolls. Talk to you later. Troy