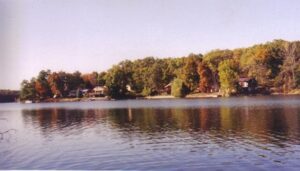 Twenty years ago, I still had a membership at Lake Bracken, located just south of Galesburg, Illinois. Today's flashback looks at how Brent and I did on a chilly midday outing on the seventh and final visit to Bracken in 2002.
Stats
Date: October 22, 2002
Location: Lake Bracken
Time: 11:05am-2:50pm
Weather: Overcast to sunny/breezy, 45F
Totals: 16 bass (Troy – 9, Brent – 7)
Lures: 3/8 oz Stanley Vibra Shaft (blue glimmer) with twin tail trailer (white) – 9 bass, Mann's 4- crankbait (red shiner) – 7 bass
Top Bass: 2-8 Spinnerbait (Troy)
Top 5 Weight (only 3 at 12" or better): 4-6 (2-8,1-0,0-14)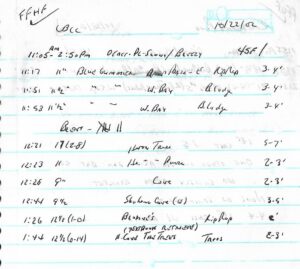 Excerpt of original post from October 23, 2002
On October 22, Brent and I decided to give Lake Bracken a try for some bass fishing. We considered muskie fishing at Lake Storey as another option, but we also figured it would be a good time to get the two-man bass boat from the dock at Lake Bracken. The plan was to tie the two-man boat to the back of Dad's bass boat, pull it to the ramp, load it in my truck and haul it home. This approach is much more favorable than the alternative of carrying the boat up the hill behind the house. If you've seen the hill, you'd understand. All went well and the boat is in the garage.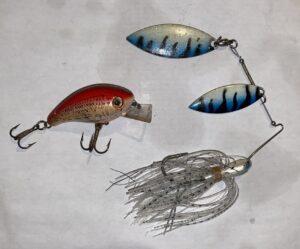 Still have these winning lures in my tackle twenty years later (Mann's 4- crankbait and Blue Glimmer spinnerbait)
As far as the fishing trip, the temperature barely bested forty, but we decided to head out anyway. We fished from around 11:00 am until nearly 3:00 pm and caught sixteen bass. All my fish were caught on my favorite spinnerbait, a Stanley 3/8 oz Vibra Shaft (blue glimmer) with a twin tail trailer (white). Brent caught all his fish on a Mann's 4- crankbait (red shiner). While the south side of the lake was most productive, it was also in the shade. With temperatures in the mid-40s and a brisk north to northeast wind, conditions weren't the best for the fishermen. But once again, it's all about the fish.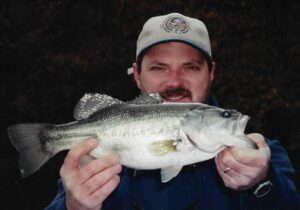 Top Bass at 2-8 on a spinnerbait
The bass were more cooperative than we anticipated. I attributed the decent bite to the fact that the lake is in the process of a drawdown, lowering the water level and drawing the forage out of many places to hide. Best spots to hit were any wood that was still in the water as well as riprap (chunky rock) banks. Big bass of the day was my 2-8. This fish had a fish tail sticking out of its throat and a fat belly but was still eager to try and eat my spinnerbait. Another highlight was what could be called a "textbook bass." I cast my spinnerbait beyond a pair of logs that formed an "X" just below the surface. I reeled the bait up to and over the logs before letting it flutter down just as it passed the structure. Upon the fall, I was rewarded with a nice 0-14 bass. Just like they show on TV and print in the magazines, bass fishing made easy.
A final highlight was getting a good look at a Pileated Woodpecker as it flew overhead. This species is typically rather secretive but is very easy to identify if you've ever seen the more common red-headed woodpecker or watched a "Woody the Woodpecker" cartoon. These guys are big, make a heck of a racket pecking or calling and fly with the typical up-and-down flight of their smaller cousins.
A productive day, considering we spent most of it freezing our (insert whatever parts of the human anatomy you deem appropriate) off.

Fun to reminisce about an old fishing hole. Looking at the location names in the log entry also bring back memories and twenty years later I could take you right back to where I caught each of the bass. In addition, it is cool to see that this trip took place in the heyday of a spinnerbait that I simply refer to as "The Blue Glimmer." All these years later it still works as I landed a bass at The Rock on the lure last month.
Talk to you later. Troy