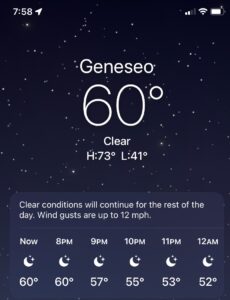 The title of this post is a bit of a "spoiler alert" as it leads one to believe that there will be a "Part II." And that is correct as I set out on this trip in search of nine bass to reach Bass #500 for the year. My first catch of the evening was landed after only six minutes of casting and had me feeling optimistic. However, I didn't land another fish for an hour and a half. Read on for the rest of the results with a little musical twist from a favorite "Rock & Roll Band," Boston.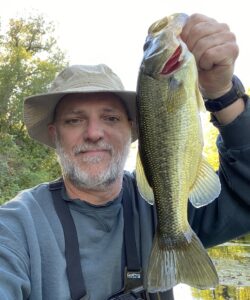 Bass #492 – 4:36pm at 1-10 (15″) on a Whopper Plopper
Stats
Date: October 1
Location: Hennepin Canal
Time: 4:30pm-7:00pm
Totals: 4 bass
Weather: Sunny/calm 66F
Lures: Booyah Buzz Buzzbait (black) – 2 bass, War Eagle spinnerbait (white/chartreuse) with Zoom Creepy Crawler trailer (watermelon seed) – 1 bass, Whopper Plopper 110 (bone) – 1 bass
Top Bass: 2-10 Buzzbait
Top 5 Weight (only 4 at 12" or better): 6-5 (2-10,1-10,1-1,1-0)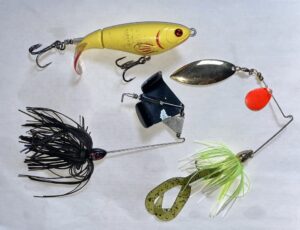 Winning Lures
Notes and Nonsense
My Destination
"And feeling the way I do, wouldn't last a mile without you."
(Third Stage – 1986)
The 2022 fishing year kept me closer to home for most of my outings as fuel costs became as much of a factor as lure selection in my fishing. With The Canal being responsible for sixty-five percent of my 2022 catches, my destination for Bass #500 was an easy choice. It deserved to be the spot where I would pursue those final bass.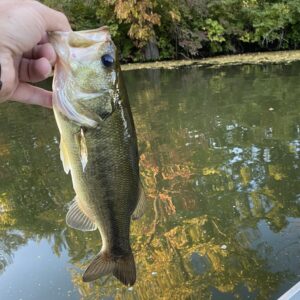 Bass #493 – 6:08pm at 1-1 (13.5″) on a buzzbait
The Journey
Instrumental
(Don't Look Back -1978)
A major reason that The Canal has produced so many bass was my change in approach from prowling the banks on foot and bike to rowing the little boat for miles and miles. Access to more water and more structure gave me a shot at more bass. And I added some low impact exercise along the way (some day I need to tally the distance that I rowed this year).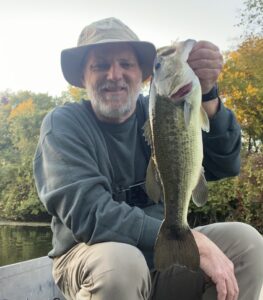 Bass #494 – 6:20pm at 2-10 (19″) on a buzzbait
Peace of Mind
"All I want is to have my peace of mind."
(Boston -1976)
Fishing relaxes me and takes my mind off all the stuff that comes with being a grown-up. My goals on the water consist of avoiding a shutout, catching a Top 5, and hitting the double-digit mark with that Top 5 weight. However, this time out I was looking for a precise number of bass and I'll admit that it messed with my mind when the bite got slow. I just kept casting at quality spots with proven lures but came up short, ending my day with Bass #495.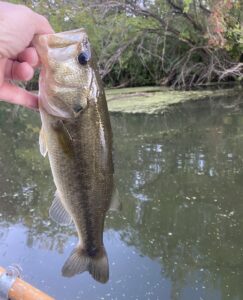 Bass #495 – 6:37pm at 1-0 (13″) on a spinnerbait
Well, the bass kept me waiting for my milestone on this outing. But I was determined to get Bass #500 and set out twelve hours later to continue the quest the following morning. Stay tuned for "Part II" and talk to you later. Troy