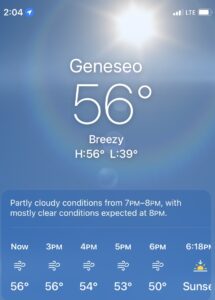 After two weeks off from fishing due to shorter weekdays and busy weekends, I took another shot at The Canal. With exactly 500 bass in the log for the year, I would say that any catches from here on out are icing on the cake. I was hoping to hit a fall feeding frenzy on this mild (but windy) afternoon, but the bite was tough.
(Note: Also included below is a bonus Snakeden Hollow report from my brother.)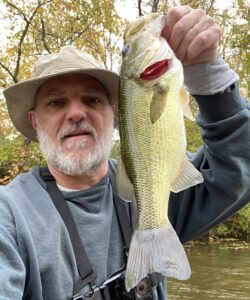 3:45pm – Top Bass at 1-14 (16″) on a spinnerbait
Stats
Date: October 16
Location: Hennepin Canal
Time: 1:45pm-4:45pm
Totals: 4 bass
Weather: Partly cloudy/very windy
Lures: Stanley Vibra Shaft spinnerbait (blue glimmer) with Zoom Creepy Crawler trailer (root beer/pepper/green) – 3 bass Booyah Blade spinnerbait (bleeding shiner) with Zoom Creepy Crawler trailer (watermelon seed) – 1 bass
Top Bass: 1-14 Spinnerbait
Top 5 Weight (only 4 at 12" or better): 5-10 (1-14,1-9,1-7,0-12)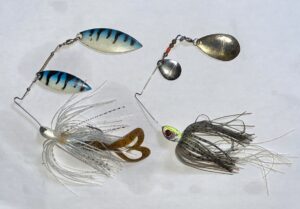 Winning lures including an old Blue Glimmer spinnerbait from the 1990s on left
Notes and Nonsense
Wind – Much of The Canal that I fish is bordered by tree lines leaving only a narrow window for the wind to be blowing right in the wrong direction. On this trip, that was the case. In fact, the wind was as tough as I have had on The Canal since a cold, windy May 1 outing. No complaints though, just an observation as most days The Canal affords an escape from the gusts that would hound me on any other waters I visit.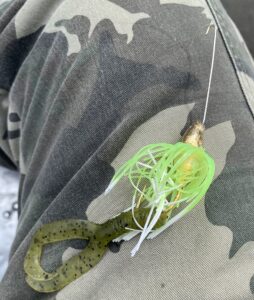 A missed strike resulted in the demise of this War Eagle spinnerbait
Broken Bait – I have given a few spinnerbaits a workout this year and they have been very good to me in terms of production from April to present. Along the way, the bass have destroyed two of my favorites. In both cases, the blade arm wire has snapped just above the line tie. The latest casualty came on this trip as a missed strike ruined a War Eagle brand spinnerbait. In September, a Lake Storey bass busted a favorite that an old friend and baseball teammate, Mike Karlovich, had crafted and sent my way. In the latter case, at least the bait went out on top by landing the fish that caused the damage.
Bonus Snakeden Finale Report
My brother, Brent, hit Snakeden on October 16 to get in a few more casts before the site becomes off limits to anglers. His details are below along with a couple photos.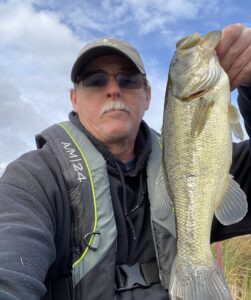 Brent's Snakeden Top Bass from his October 16 trip at 1-11
Roughly 3.00 hours
13 bass
Top Bass: 1-11 and 1-6
Mann's 4- crankbait – 6 bass
Strike King Red Eye Shad – 3 bass
Senko wacky rig – 3 bass
Spinnerbait – 1 bass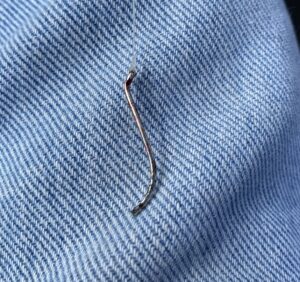 An odd break for Brent as a busted hook on a Senko wacky rig cost him a three-pounder
My year on the water has reached the home stretch. As I post this entry, I have a final Lake Storey trip in the books and look to have that report posted next week. Beyond that outing, I am not sure what the rest of October holds in terms of getting on the water. These shorter days really do a number when my workday ends at 5:00pm or later. I always set an annual goal to end with a November bass so time will tell how that all shakes out. Fishing or not, I've always got plenty of blog ideas so stay tuned and talk to you later. Troy