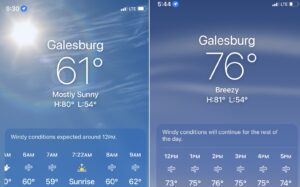 Time is winding down for my 2022 fishing season. Shorter daylight and busy weekends make it tough to get on the water. And when I do get a shot, it can also be tough to decide on a destination. However, by October some of the options are no longer in play with the Knox County public access strip mines locking out anglers. Therefore, my choices came down to The Canal, Little John Conservation Club, and Lake Storey. I chose the latter and here's how it went down.
Stats
Date: October 22
Time: 9:30am-5:15pm
Totals: 13 bass
Weather: Sunny/very windy 61-79F
Water Temperature: 51-55F
Lures: War Eagle spinnerbait (white/chartreuse) with Zoom Creepy Crawler trailer (watermelon seed) – 8 bass, Special K Willow Hammer Spinnerbait (white with copper head) with Zoom Creepy Crawler trailer (watermelon seed) – 2 bass, Strike King Red Eye Shad (sexy shad) – 2 bass, Bomber Flat A Crankbait (baby bass) – 1 bass
Top Bass: 1-15 Red Eye Shad
Top 5 Weight: 6-13 (1-15,1-6,1-4,1-4,1-0)
Notes and Nonsense
Weird Wind – I was pleased when I saw that the prevailing wind forecast was generally south. Not only does that mean warming but it also sets up well with many of my spots getting pounded by the weather. In addition, I don't have to fight it as much as a west wind when it is time to return to the ramp. However, the wind turned out to be a strange swirling direction that was all over the place. I wound up in few spots that were extremely windy that should not have had any wind at all judging from the observed direction of treetops or flags. At least the end of the day featured gusts from the east. Not my favorite for fish activity and made boat control tough for a stop along the dam but it did help push me back to the ramp.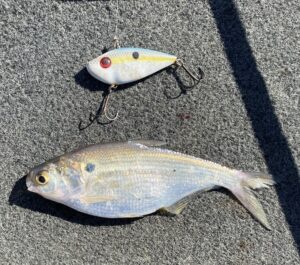 Imitation is the sincerest form of flattery exemplified (see note below)
Shad Surge – Over the last few years, I have observed a real uptick in shad sightings at Lake Storey. Schools on the surface are common and you can occasionally see them scatter during casts and retrieves around shallow structure. On this trip, my lure collided with what I suspect were shad and I even snagged one in the back with a near facsimile, the Strike King Red Eye Shad (sexy shad pattern). These days, shad look to be a substantial piece of the forage base along with a population of similarly designed golden shiners. Moral of the story is lures that imitate such species are certainly worth some casts.
A golden shiner from Lake Storey in May that also makes up part of the lake's forage base
Crazy From the Heat – The summer-like weather brought out an interesting crowd. I was one of three trailered boats on the water along with close to double digit kayakers and well over a dozen bank anglers. I observed a topless paddle boarder (male) intentionally go for a waist-deep wade in the fifty-two-degree water. He hollered at his buddy, "It ain't too bad!" Nope, as it made me breathe funny just watching and recalling how cool creek water got your attention once it reached a certain level of the anatomy. Fish stories abounded with one kayaker stating he'd landed a five-pound bass that morning. He looked adept in his skills, and I believed him. Another kayaker along the dam regaled me with tales of a seven and eight-pounder from Lake Storey over the years, and many six-pounders this year. He also had a state record bass hooked out there. He stated, "the only bass I've ever seen that large was in a Bass Pro Shops tank in Galveston, Texas and it weighed 16.62 pounds." (Illinois state record sits at 13-1, a controversial catch from 1976). I mentioned that I had lost a good muskie and he then proceeded to tell of his fifty-five-inch Lake Storey muskie that he released not realizing it could be "a state record." For reference, I believe that the largest verified muskies from Illinois waters came in at fifty-four inches. As his fish stories continued, I was smiling inside. You see, we were conversing near the water control structure. It is the deepest part of the lake, and I felt that the water wasn't the only thing getting deep during our chat.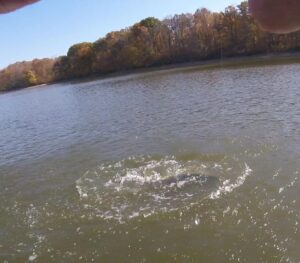 Snapshsot from the GoPro footage of a large muskie that wound up as "the one that got away." Stay tuned for the rest of the story in a follow-up post.
Getting back to reality to close this post, my muskie encounter briefly referenced above will get a blog post of its own. Losing a big fish like that torments me and as a teller of fish tales, I need more time and blog space to do it justice. Besides, this ramble has gone on long enough so stay tuned and talk to you later. Troy