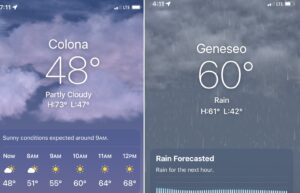 As October passes, I am nearing the end of my first full year of fishing The Canal. And quite a year of exploring it has been on the historic waterway. But those totals and tales will wait for a complete wrap-up after the New Year as today we focus on how October shook out with the latest monthly wrap-up.
2022 October Totals
Four outings covering two different pools
27 bass in 11.25 hours (2.40 bass/hour)
Top Bass: 2-10 October 1 Buzzbait
2022 October Top 5: 10-9 (2-10,2-4,2-3,1-14,1-10)
2022 Best October Top 5 Day: 8-15 (2-4,2-3,1-10,1-7,1-7) – October 30
Top 5 All-Time October Bass Weight: 10-9 (2-10,2-4,2-3,1-14,1-10)
Notes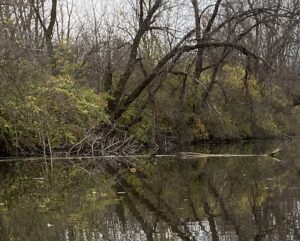 Disappearing weed cover makes for better wood targets
Waning Weeds – Having covered a lot of water via boat this year, it has been interesting to see how The Canal changes over the seasons. At present, it is in a stage where the weeds have died back. This provides for better lure coverage of the ample shoreline wood on some of the spots I fish.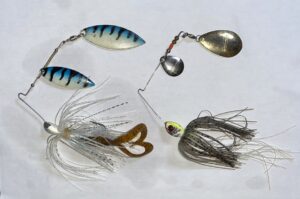 Winning Spinners
Spinnerbait Success – I will save the lure stats for the end of the year but no doubt that a spinnerbait has been my most effective presentation. My first Canal bass of the year came on a spinnerbait back on April 15. My latest Canal bass was landed on a spinnerbait on October 30 and there have been close to two hundred more in between.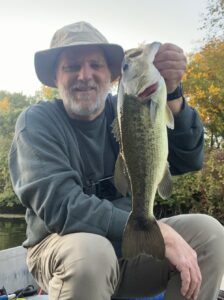 October 1 – new October Top Bass at 2-10 (19″) on a buzzbait
Top 5 Notes – In October 2021, I fished The Canal four times from the bank for a total of eight hours. Results were less than impressive with nine bass and only two "keepers" weighing 1-4 and 1-1. Thus, I needed three more bass to reach an October Top 5 and then work on booting those two from last year. Things worked out well thanks to a solid outing on October 30 and I now have a double-digit Top 5 Weight for October.
2022 Overall Canal Stats
347 bass in 116.25 hours (2.98 bass/hour)
Top Bass: 3-5 (tie) 4/23 Spinnerbait 8/21 Buzzbait
Best Top 5 Day: 11-3 (2-15,2-10,2-3,2-1,1-6) 6/24/22
2022 Top 5 Canal Weight: 15-15 (3-5,3-5,3-4,3-2,2-15)
2021 Top 5 Canal Weight: 15-6 (3-6,3-4,3-1,2-14,2-13)
November can be tough in terms of getting on the water with a typical 5:00pm end of workday meaning its weekend fishing or none at all. My annual goal is to end with a November bass and that was accomplished yesterday at Lake Storey (full report to come later this week). However, I have never fished The Canal in November, so my sights are now on a Canal bass before the month is over. Stay tuned and talk to you later. Troy