Five years ago today found me at Little John Conservation Club in search of my November bass. From 2013 through 2021, Little John was my destination of choice when chasing that final bite (the lone exception was 2019 when I found my last bass in Wichita, Kansas on a work trip). On this date, the old lakes came through as detailed in the stats below.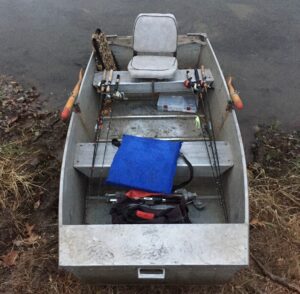 Stats
Date: November 4, 2017
Locations: Little John Conservation Club (2 lakes)
Time: 2:40pm-5:55pm
Weather: Overcast/breezy
Air Temp: 48-51F
Water Temp: no reading
Totals: 3 bass
Lures: 1/4 oz. Rattling Jig (black/blue) with #11 pork frog (black) – 1 bass, Strike King Red Eye Shad (sexy shad) – 1 bass, Strike King KVD 2.5 Rattling Squarebill crankbait (sexy shad) – 1 bass
Top Bass: 1-12 KVD 2.5 crankbait
Weight (2 bass at 12" or >): 2-10 (1-12,0-14)
The three bass from this outing extended my best ever season total to 415 bass. This total included 136 bass from lakes at Little John. My 2017 total would stand as the record until this year where I currently sit at 542 bass. Strange thing is, not a single of the 2022 bass have come from Little John for only the second time nearly thirty-five years. Between fuel costs and finding a lot of bites on The Hennepin Canal, Little John lost out as I spent more time closer to home.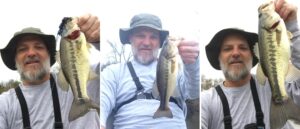 Like this trip, I am hoping that my 2022 November bass from earlier this week (blog post to come) will not be my last catches of the year. Depending on the weather and weekends, I am hoping to push my luck on The Hennepin Canal, a newfound bass fishing resource. Closer to home means less time driving and more time casting when comparing a two-hour round trip to roughly thirty minutes. And when the days get shorter and colder, that extra window of time is very valuable.
The trio of November bass above would not be the final fish of 2017. Stay tuned for that tale and a couple more in the final three Friday Flashbacks of the series. But up next is the report on this year's November bass from Lake Storey. Talk to you later. Troy