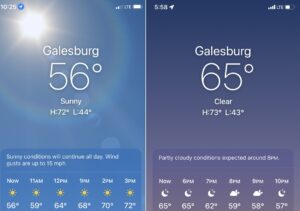 A weather forecast of a high temperature near seventy and moderate winds sounded like a good day to chase my November bass. So good, in fact, that I took a vacation day from work to take my shot. My choice of water was Lake Storey. It has been good to me this fall and it is not often that November provides quality weather worth a late season visit. Read on to see if my decision paid off.
First "catch" of the day
Stats
Date: November 2
Site: Lake Storey – Knox County, IL
Time: 10:20am-5:20pm
Totals: 11 bass
Weather: Sunny/breezy 56-68F
Water Temperature: 53-55F
Lures: Booyah Blade Spinnerbait (bleeding shiner) with Zoom Creepy Crawler trailer (root beer pepper green) – 6 bass, Special K Willow Hammer Spinnerbait (chartreuse) with Zoom Creepy Crawler trailer (root beer pepper green) – 3 bass, Chatterbait (white) with Zako trailer (Tennessee Shad) – 2 bass
Top Bass: 2-9 Spinnerbait
Top 4 Weight: 6-3 (2-9,1-7,1-2,1-1)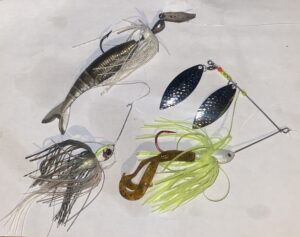 Winning lures, including another busted spinnerbait

Slow start but optimistic in this text to friend and fellow Top 5 angler, John Kirkemo
Notes and Nonsense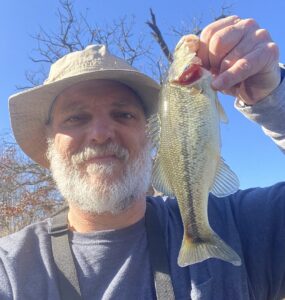 12:21pm – November bass mission accomplished on a spinnerbait
Goal #1 – November Bass
While it took me two hours to get my first bite and it wasn't a real impressive specimen, the only detail that really mattered was that I had my November bass. Several of my go to spots had failed to produce but I was confident that if I kept on casting and hitting my targets, I'd get what I was after. And at 12:21pm, a stretch of riprap produced.
One That Got Away and would cost me a Top 5 on the day
Goal #2 – Top 5
After landing a November bass, the next goal was to post a Top 5 of bass at or above twelve inches. I had five short bass in the log at 1:45pm when I landed my first "keeper", a solid 17.5" fish that weighed in at 2-9. Several minutes earlier I had lost a fish that would have qualified, and that missed fish would wind up being the fish I lacked for a Top 5. Instead, I wound up with a Top 4 weighing in at 6-3 with my last "keeper" of the day being a 1-7 landed at 5:16pm.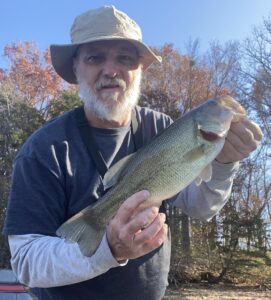 1:45pm – Top Bass at 2-9 (17.5″) on a spinnerbait
Record Book Roundup
My 2-9 bass on this trip set a new November Lake Storey Top Bass record narrowly beating a 2-8 from November 1, 2008. However, the Top 4 Weight of 6-3 on this outing fell short of the Top 5 Weight record of 7-13 also from November 1, 2008. Based on the brief glimpse of the "one that got away" on this outing, I would have to say that it would not have tipped the scales at the 1-11 required to establish a new Top 5 Weight for November on Lake Storey.
It's always a treat to match wits with the wily bass that call Lake Storey home. Getting to do so this late in the year was a bonus as it marked only the second time that I have fished the lake in November. For the record, I will state that this is my final visit of 2022 to the old fishing hole. Any more bass for 2022 will be those that swim in The Canal. Stay tuned and talk to you later. Troy