While I achieved my goal of a 2022 November bass during a trip earlier in the week to Lake Storey, I had never fished The Canal in November. Thus, I had a new challenge in mind and the warmer than normal temperatures had me optimistic that at least one Canal bass would come through. Read on for the results.
Stats
Date: November 6
Location: Hennepin Canal (two spots)
Time: 12:00pm-2:00pm, 2:50pm-4:50pm
Totals: 10 bass
Weather: Sunny/breezy to windy, 60-53F
Lures: Special K Hammer Spinnerbait (chartreuse) with Zoom Creepy Crawler trailer (watermelon seed) – 10 bass
Top Bass: 2-8 Spinnerbait
Top 5 Weight: 9-3 (2-8,2-3,1-9,1-8,1-7)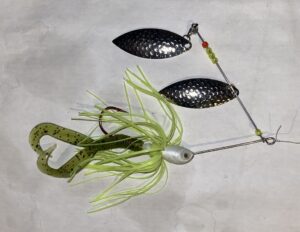 Notes and Nonsense
Spot 1
My plan was to fish two spots and invest roughly two hours on each stretch of water. For my first stop, I decided to step away from my regular stomping grounds and hit a stretch that I had only fished once. A May 29 visit had produced a 2-8 among the four bass landed in just over an hour of casting. But what caught my eye on that outing was a solid collection of wood cover. And that is what brought me back for some November spinnerbait fishing. The return trip resulted in six bass in two hours with a Top Bass of 1-9 and a Top 5 of 6-12. Funny thing was, only one of those bass came off wood cover. Not a bad sign in showing that there is more going on in this pool than trees, brush, and laydowns. Nothing big but I was pleased with the mood of the bass and looked forward to my second stop.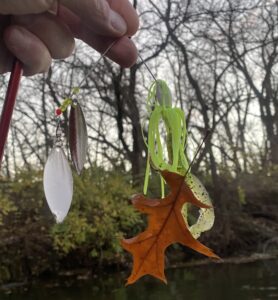 Quite a few casts end like this at this time of the year on The Canal
Spot 2
Launching at 2:50pm meant that I was right on target for my intended two hour shot at a regular stretch of water (sunset at 4:49pm on the first day of turning the clocks back an hour). Seven minutes into casting, I had a solid 2-8 in the boat on my spinnerbait and my hopes were high for more quality bites. I did get one more good fish at 2-3 but my overall haul of four bass did not meet my expectations. But hey, no complaints when I'm still getting to reel in some November bass.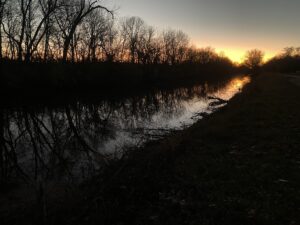 I don't want to say it is over until it is over, but the chances of getting back on the water seem slim at this point. Temperatures are supposed to drop considerably this weekend into more of a normal November range. Perhaps a fluke warm-up or the early onset of Cabin Fever may get me back on The Canal but no guarantee. Whatever happens, its been quite year. And even if I am not fishing, I suspect that I can come up with something to blog about. Talk to you later. Troy