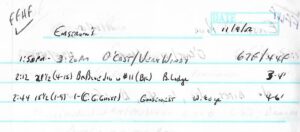 Many Friday Flashback posts have referenced Emstrom's Pond. And rightfully so as it was quite a fishing hole. Lots of stories and lots of quality bass. Perhaps someday I'll comb the logs and memories for a series of blog posts on the old pond. But for today, we'll start with the regular "X Years Ago This Week", expand a bit to look at a Top 5 list from 2002 and close with an overall look at Emstrom's dominance in 2002.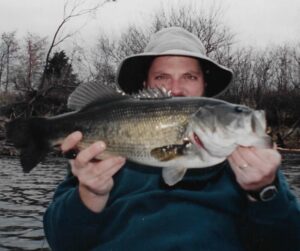 November 9, 2002 at 2:12pm weighing 4-15 (21.5″) on a jig and pig
Per the original fishing report from November 9, 2002:
I had a couple hours to spare while Julie did a stamp workshop today, so I hit Emstrom's Pond looking for that one bite. I got it about twenty minutes after arriving at the pond. This sounds like a broken record, but the bass was caught on a 1/4-ounce jig (black/blue) with a #11 pork frog (black) while fishing The Beaver Lodge. The bass weighed 4-15 and set a new record for the month of November. The previous record was a 4-8 caught by Brent on 11/3/01 also at Emstrom's Pond on a Guido Bug (black/blue). I caught one other bass (1-9) on a Mann's Baby 1- (crystal grey ghost) and had no other bites.

Top 10 Bass of 2002
That bass would end up as my third largest bass of 2002. This catch was many years before I kicked off the Top 5 project which launched in 2014. However, I still have all the data from 2002 so why not look at the year's Top 5, which totaled an impressive 24-6. Not bad considering that they were all caught from one modest sized farm pond.
5-15 Emstrom's Pond
5-4 Emstrom's Pond
4-15 Emstrom's Pond
4-4 Emstrom's Pond
4-0 Emstrom's Pond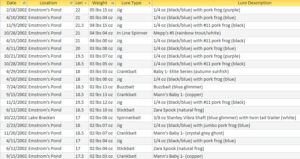 Top 20 Bass of 2002
Beyond those Top 5 bass of 2022, nineteen of the Top 20 Bass of 2002 came from Emstrom's with the lone exception being a 2-8 from Lake Bracken. Quite a fishing hole and it will make one final appearance before the Friday Flashback series reaches its conclusion in a few weeks. Talk to you later. Troy