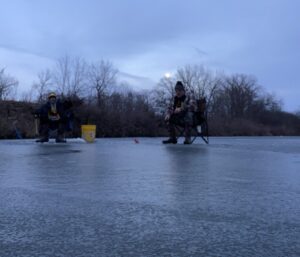 My son, Jayce, mentioned going ice fishing several years ago. As no one in my family had ice fished for many years, any gear we used to have had long been passed on to someone who could use it. Therefore, I purchased an auger, four ice fishing poles, and a batch of jigs a few years ago. Last year, I even rigged the poles in preparation but the ice deteriorated before we got our shot. This year, we missed the first batch of ice, but Mother Nature came through with a second cold wave to refreeze local waters to my liking. The return of safe ice coincided with a Saturday and forty-degree air temperatures, so it was game on.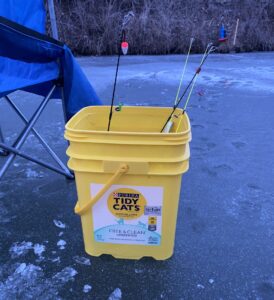 Our deluxe ice fishing bucket
We spent roughly an hour on the ice as sunset approached and could not muster a single bite. I do not profess to be a prolific ice fishing angler, but I still figured that I could put Jayce on at least a few fish. Even without any bites, we had a good time learning about testing the ice, drilling holes, rigging lures, presentation, and engaged in the regular goofing off.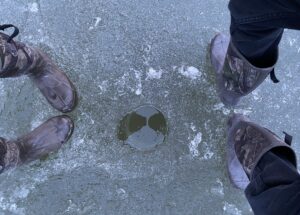 Goofing off for a pic (above), YouTube video from the outing (below)
It was an evening custom-made for ice fishing in my book. Nearly fifty degrees, roughly half a foot of ice, and winds blocked by the treeline are what I call optimum conditions. I never even put on my gloves the entire time. While no fish showed up, we did see a dozen turkeys, an osprey, and one deer that ran across the road in front of the truck as we headed home.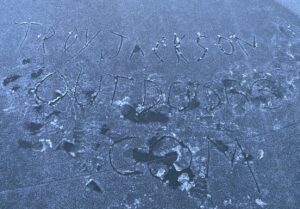 Who needs a billboard or bumper stickers?
Good father-son time, fresh air, and some new fishing skills added to the repertoire. With warming temperatures and some rain in the forecast, it looks like those skills will be put on hold until next ice fishing season. Not a problem, as we accomplished our mission of getting out on the hard water. Now we're ready for some lures to make a splash. I suspect that we still have a substantial wait, but come on, open water. Talk to you later. Troy