Welcome to my latest project entitled "Friday Flashback" that takes a look back at the pics, stats and reports (in many cases) from the fishing hole. Similar to the "Trapping Tuesday" postings that ran during trapping season, this one will look back 5, 10, 15…30 years at memories from time well spent on the water. I guess all of these fishing logs, photo albums and blog entries actually come in handy.
To kick off the series we visit a classic fishing hole known as Emstrom's Pond located just west of Galesburg, IL. The name arose from the fellow who granted Dad permission to fish the spot back in 1988, Dwight Emstrom, who ran a local trucking company. It seems that his sister lived on/owned the land with the pond. From 1988 through 2004, when we lost access to the pond, we caught a lot of fish including many pretty darn nice bass. Suffice to say, this won't be the only visit we'll pay to Emstrom's Pond during Friday's to come.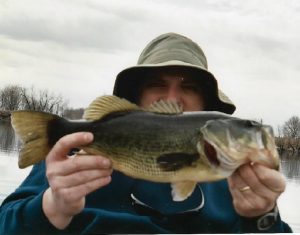 March 20, 2003 Emstrom's Pond 2-10 (18″) Jig & Pig
My wife, Julie, always gave me a rough time about holding the fish in front of my face but what would you rather see?
Today's inaugural flashback features a catch from 15 years ago this week. Below is an excerpt of the original report that featured the catch and was emailed to family and friends on April 5, 2003 in the days before I became an official blogger.
"During the past three weeks, I have fished Emstrom's Pond and the Little John strip mines with limited success. Tops was a six bass day at Emstrom's Pond and low was a shutout at Little John. Most of my forays at Emstrom's Pond consisted of an hour or hour and a half before or after work. Little John outings included visits to Jake, Muskrat, Club and Skeet Lakes. Top producer at Emstrom's Pond was a 1/4 oz. jig (black/blue) with a pork frog #11 or #11G (black, blue or blue glitter) fished on the Beaver Lodge. At Little John, I picked up bass on a Rapala Rattlin' Rap (brown craw) off tops and drops of main lake points, jigs around fallen trees and a Mepps #5 (white/rainbow trout) along dropoffs."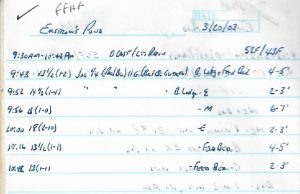 Actual log entry from the day on the water
Today's bass came on the six bass day referenced above and preceded my standard Stat recap that is a feature in all of my latest fishing reports. So, better late than never.
Stats
Date: March 20, 2003
Location: Emstrom's Pond – west of Galesburg, IL
Time: 9:30am-10:45am
Weather: Overcast/light rain
Air Temp: 52F
Water Temp: 43F
Totals: 6 bass
Lures: ¼ oz. Jig (black/blue) with #11G pork frog (black/blue glitter)
Top Bass: 2-10 (18") Jig & Pig
Top 5 Weight: 7-2 (2-10,1-4,1-2,1-1,1-1)
All in all, not too shabby of a day considering only 75 minutes on the water. Had a lot of those days over the years at Emstrom's so you haven't seen the last of the flashbacks from this old favorite. Talk to you later. Troy