Sometimes I wonder how many casts I've made over the years.
Don't really have the slightest clue.
But what I do know is that the old "practice makes perfect" saying is not entirely accurate when it comes to this skill (or any other I suppose). For no matter how many casts you've made, there are still those that end up errant and off target. Such mistakes can range from a mere fraction of an inch to one of those weird ones that crops up on occasion and leaves you wondering just how a seasoned angler could foul it up that bad. Gotta be wind or equipment failure, right?
But as today's video shows, even when you miss your mark, good things can still happen. As finicky as we might find those bass to be on some days, they are still top of the line predators that are built and programmed to eat.
If your lure is in the water, it's fair game.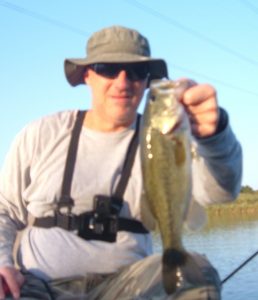 Bad isn't so good when it comes to this photo of the above catch so I'm glad that I've been able to add the video aspect to the fish stories
Such was the case with this catch from Iowa's Lost Grove Lake, a fishing hole that can be quite frustrating due to an abundance of slimy, scattered vegetation. While the cast doesn't look as ugly as a toss into a tree or onto a boat dock (done 'em both more than a few times) it nevertheless struck me as a wasted shot into some of the nasty subsurface weeds. Fortunately, the lure came through unscathed by the vegetation which just so happened to be the hiding place of an interested bass and that aspect was indeed part of the plan.
A plan that worked to perfection despite an imperfect cast. Without the audio on this clip one would never even know that I was essentially looking ahead to my next cast as this one didn't stand a chance.
Bonus video from this trip featuring the Top Bass weighing 1-14
As always, a fishing trip isn't only about the haul. It's also about learning something new each time out. In this case, if you've got a lure in the water be ready because anything can happen. After all, even a bad cast can produce a good result. Talk to you later. Troy