…three weeks of winter,
two Northerner boots,
and one transistor radio.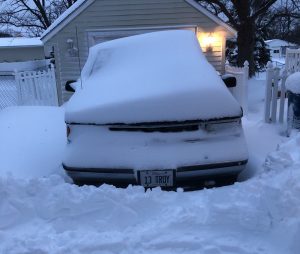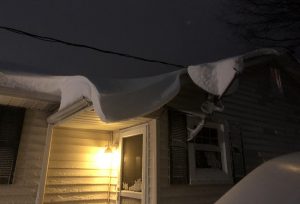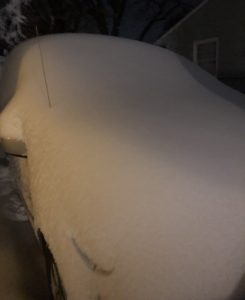 Images from a much too early 11/26/18 snowstorm that dumped over 13″. I'm ready to move on to spring now.
Okay, so I know that I live in the Midwest, have for my whole life and you get what you get and you don't throw a fit. Just get out the shovel, the scraper and some ice melt and have at it.
But hey, this is kind of a wish list sort of thing. Besides, the seasons continue to get a bit weirder all the time.
So, I'm saying there's a chance.
It's already ruined for this year though thanks to just under 14" of late November snow to go with a couple more inches from earlier in the month. However, if I had my way it would go something like this.
Winter and all its trimmings would start right about December 16 and run its course by January 6. A white Christmas is still appealing and I do like the sight of a freshly fallen blanket of snow but once or twice a year on the latter would be just fine. Otherwise, I want my lakes, ponds and strip pits open through mid-December and ready again by the beginning of February. Along the way I'm willing to shovel my driveway once or twice, debate about when to put the sandbags in the bed of the truck and keep my fingers crossed that we dodge the seemingly annual ice storm.
Oh yes, I'd certainly make the most out of those three weeks in order to not be left wishing I'd done this or that outdoor winter activity (yeah right). The first week would be spent stripping line, respooling reels and restocking tackle as you can't fool around with such a short season off the water. My second week would encompass celebrating Christmas and perhaps a few vacation days to coincide with school break for some family time minus a bit of the hustle and bustle. The final week would be used to welcome the New Year, build a snowman, go sledding, drink some hot chocolate, throw some snowballs and then start drawing up plans for a garden with warmer weather right around the corner. I might even make one ice fishing trip just to say I did it as long as there's at least six inches of ice and forty degree air temperatures (perhaps an unlikely prospect during such a short winter but a wish list isn't always realistic).
Whew, I'm worn out just writing about such a wonderful and fun filled winter.
Now back to reality and the Fourth Day tomorrow. Talk to you later. Troy