Well, I managed to get on the water for a few hours over the holiday weekend. Good Friday was an unexpected quick trip to an area pond while Saturday found me playing fishing guide on an overdue outing. Neither day was particularly impressive but it's not always about the fish so read on if you can relate to that concept.
Stats – Good Friday
Date: April 19, 2019
Location: Henry County, IL pond
Time: 4:15pm-5:30pm
Weather: Sunny/windy
Air Temp: 62F
Water Temp: not available
Totals: 5 bass
Lures:
ZMan Chatterbait (perch) with Yamamoto Zako trailer (Tennessee shad) – 3 bass
Bomber Flat A crankbait (baby bass) – 2 bass
Top Bass: 0-14
Top 5 Weight: 1-10 (2 bass)
Notes and Nonsense – Good Friday
Just going to go with a video recap below (SMALL BASS ALERT BUT A COOL RELEASE)
Stats – Saturday with Jayce
Date: April 20, 2019
Location: Knox County. IL public strip pit
Time: 3:00pm-3:45pm
Weather: Sunny/windy
Air Temp: 70F
Water Temp: not available
Totals: No bites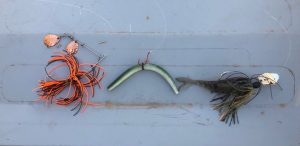 Jayce's arsenal consisted of The Emiquon Special, Senko wacky rig and ZMan chatterbait with a Zako trailer
Notes and Nonsense – Saturday with Jayce
New Gear – Part of Easter came a day early for the kids as everybody got a new fishing pole upgrade (Jayce got two as I still owed him one from hid birthday last year). Zac, Jayce and Helena are now armed with Shakespeare spinning combos while Carly bumped up to a baitcasting rig as she already had the spinning combo covered.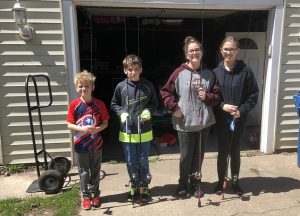 Happy Easter with the next step up in fishing rod combos for our crew of anglers
New Tricks – Jayce decided to go all in on bass as he had success on Cinco de Mayo 2018 at the spot but Easter weekend 2019 wasn't as friendly as it pitched a shutout. However, we managed to invest our time in learning about a couple new baits in a chatterbait and a spinnerbait. The spinnerbait is extra cool as it is a homemade model that Jayce received as a gift from Uncle Brent, a copy of his legendary Emiquon Special.
Old Habit – Many years ago when Dad was teaching his kids outdoor stuff, a stop at an area shop was often in order to grab a soda and a bag of chips. Well, apparently the day end treat left a mark. Our post fishing refreshments consisted of a Mountain Dew for me and some chocolate milk for Jayce while we shared bags of Sun Chips and Spicy Nacho Doritos.
As you see, all is not lost when the fish get lockjaw. And it is always a treat to hang with one of the kids in a one on one setting, tough to do very often. Two hours in a truck and another hour hiking and casting provide some great father-son time. We talked of Run DMC, listened to a poor Cubs performance, reminisced about past outings and Jayce made me a proud dad upon correctly identifying "Ballroom Blitz" by Sweet after a mere handful of notes.
A good weekend in spite of less than impressive results. Always good to get some fresh air too with the weather actually being nice for two consecutive days, a rarity thus far in 2019. Here's hoping it continues and helps to get the bite headed in a more active direction. Talk to you later. Troy