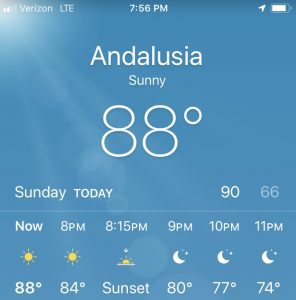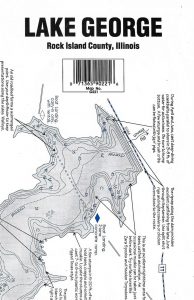 Forgot I had an old topo map, lot of good it did me in the basement
Seems like about every year I get around to writing one of these blog entries.
Yep, the dreaded shutout.
It is what it is and I tell it like it is. Never claimed to be a better fisherman than anybody else, just like to fish and tell. And if you fish, you should tell the bad with the good.
So, here we go with the scant details, some notes and a little bonus reminiscing in advance of tomorrow's weekly Friday Flashback.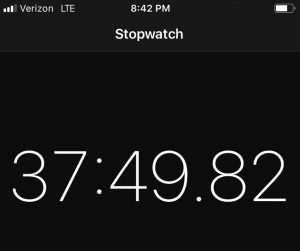 61-mile roundtrip and 38 minutes ramp to driveway, a lesser commute than my Knox County dwelling days
Stats
Date: August 4, 2019
Location: Lake George – Rock Island County, IL
Time: 6:30pm-8:00pm
Weather: Sunny/calm to breezy
Air Temp: 88F
Water Temp: not available
Totals: 0 bass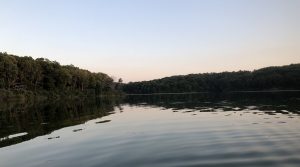 Notes and Nonsense
Scenery – Lake George is a nice looking lake with an abundance of attractive shoreline cover, good water clarity and very few weeds. I took a couple shots in order to have something from the day to offer in lieu of zero bass. Also spotted an attractive young lady on one of those paddleboard things. May have to get me one of those (paddleboard) as they evidently get the paddler in some darn good shape.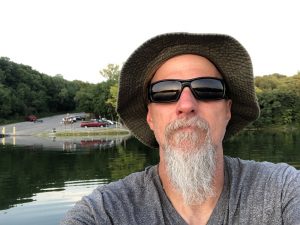 Nice two lane boat ramp on east side of lake near one of the campgrounds
Excuses – Too hot, too deep too quick, too sunny, too long away to remember much about the lake, too much forage…too bad I failed to figure anything out.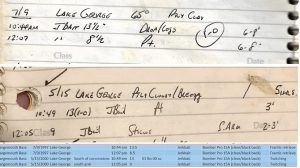 Been a while, July 1997 and May 2000 but actually fooled a couple fish all those years ago
Flashback Logs – As noted by the original log entries and the database above, I did manage to fool a few bass at Lake George back in the day. Both were part of camping trips in 1997 and 2000 with my girlfriend and we're still going strong headed towards wedding anniversary number seventeen.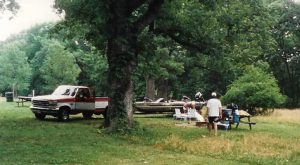 July 8, 1997 camping trip on Lake George
Flashback Pics – Now I know the weekly flashback is on Friday but couldn't resist a few bonus shots of the 1997 Lake George camping trip with Julie. Kind of fun as I just fished out of that very same boat last weekend and noteworthy that my camping buddy still looks the same just over 22 years later. Her companion, well…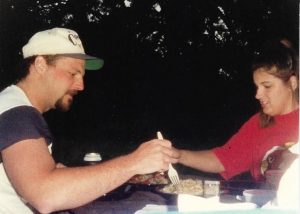 July 9, 1997 – peaceful outdoor dining, who knew we'd one day share the picnic table with four kids?
Thanks for hanging in there for the more or less annual "shutout" report. Friday Flashback up next and hopefully I will break the shutout streak when I have another chance to hit the water. Talk to you later. Troy