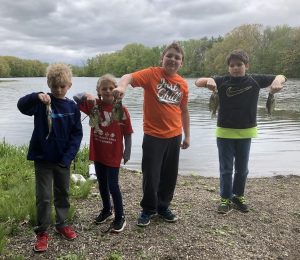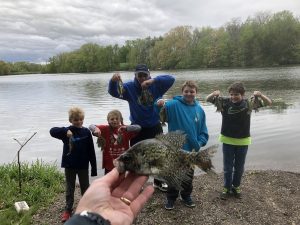 Mother's Day weekend crappie chasing success
While there are no fish on hand for the Monday Top 5 Update, we do have a fishing report as a suitable substitute.
And it goes like this…
My boys and I were invited down to a "secret" destination by a noted local guide who goes by the name of "Papa" for our crew and several others. For decades he has had the crappie dialed in at this fishing hole during the Mother's Day weekend. While the weather forecast left much to be desired with early rain, barely 50 degree high, gray skies and a stiff breeze, we confirmed our reservation around lunchtime and headed out for the late afternoon outing.
First casts were made at roughly 3:35pm and in no time the bite was on. My brother, Brent, and his kids joined the fun a little after 4:00pm and our bunch hung in there until 5:15pm during a bite with barely a lull.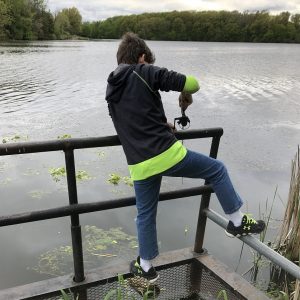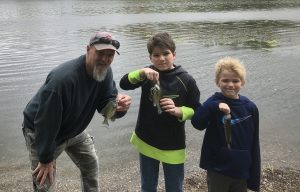 Jayce called this contorted technique "Pretzel Fishing", can't argue with the results
All told we combined for somewhere in the neighborhood of fifty crappie and a few bluegill courtesy of waxworms on a jighead hung from a bobber. Location was key as the fish were flat out shallow and on the inside edge or first pockets in the abundant surface vegetation. Not uncommon for this fishing hole, been there done that before.
Weather was really pretty crappy for the second weekend in May but what was cool is that there were zero complaints from our young anglers. In fact, we grownups were the only ones who commented on sore and somewhat numb fingers and a chill that just kind of stuck. And mind you, those kids handled and released a bunch of fish.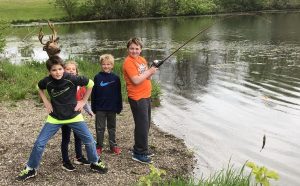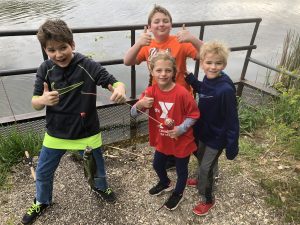 Cousins conquering crappie
Post fishing fun included hot dogs over the much needed warmth of a campfire at the area campground along with some kid led hiking. Good stuff considering that Brent and I have been on the kid end of such adventures on those same trails dating back to the 1970s.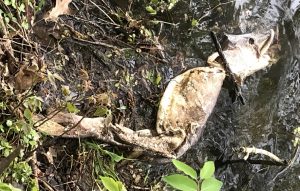 Our guide led us to a sizeable earlier dead muskie discovery
All in all a great outdoor day in less than great conditions. Plenty of practice for the youngsters in terms of casting, catching and fish handling and always fun to watch their confidence grow in regards to each aspect. Also fun to teach in the same outdoor classroom with the guy who taught Brent and me the same lessons well over 40 years ago. Yet again proves that the best time to go fishing (or get outdoors) is anytime you can.
One other impressive observation was the fact that the only devices in use were in the hands of me and Brent as we preserved some quality memories for posterity (and a blog posting). Never heard a peep from the kids either as they were too busy having some old fashioned, low-tech fun, gotta love it.
And thus ends today's fish "Storey." Talk to you later. Troy