During a recent session of internet wanderings I happened to see that an old Major League pitcher had passed away.
Don Mossi was age 90 (I think, more on that below) and played from 1954-1965 for the Cleveland Indians, Detroit Tigers, Chicago White Sox and Kansas City Athletics, making the American League All-Star Team in 1957.
While he did receive considerable consideration as the southpaw for my "MLB Fishing All-Star Team" project last summer (click here), he was out voted in favor of Steve Trout. But with his surname representing an item that is both a boon and a bane to anglers, when I learned of his passing, I thought "there's a blog post tribute here."

Tell me who you're gonna believe, Topps 1955 or Wikipedia 2019?
Somehow or another I have a 1955 Topps Don Mossi card in my collection. While this series hit the stores well before my time as a collector, I have long been a fan of the landscape design represented in this set. The orientation resurfaced in the Topps sets from 1971 through 1974 for individual player cards and with that timeframe being right in my wheelhouse I am certain that those sets are responsible for my fondness for such a cool variation.
I must add that the backs of ball cards have long held a fascination for a fellow once referred to as "stat boy" by some "friends." In addition to the numbers, there's also a wealth of info (useful and otherwise) in the form of cartoons, highlights and trivia that adorn the flipsides and still bring a grin. In fact, I learned a little something new from Mossi's card as I failed the "You're the Ump" quiz.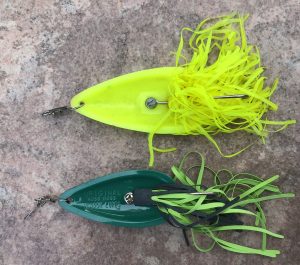 My original Moss Boss from the 80s (top) and a more recent purchase (bottom)
On the fishing front, I couldn't help but recall a lure known as the Moss Boss that first entered my tackle collection in the mid-80s. This topwater spoon creation from Heddon Lures was a must have for a kid back in the days when the baitshop offerings weren't quite so overwhelming. Actually, when there used to be a fair amount of what were called "baitshops." Interestingly, my logs show only a lone record of a bass landed on the old Moss Boss although I'm pretty certain it achieved a bit more success along the way. However, like many other must haves, the original Moss Boss from the 80s currently finds itself relegated to the "Misfit" section of my substantially larger tackle collection along with a more recent purchase from several years ago. A purchase with good intentions as a blog project that has yet to come to fruition…maybe someday while today's post will have to suffice for now.

This June 19, 1988 log entry is the only documented success I can find with a Moss Boss during my extensive research for today's post
Anyway, RIP to Mr. Mossi and I appreciate anyone who elected to bear with me in my stroll down Memory Lane, always a great place to visit as you put a few more years behind.
And speaking of years, did any other card collectors in my age range marvel at how old some of these guys looked on cards back in the day? Mossi would have been 24-25 years old when this card was created. Holy cow! I guess it shows that while the 50s have been portrayed as a carefree sort of decade, life was still indeed tough, likely not near as glamorous as the old TV shows and nowhere near as technologically reliant and distracted as present day. Folks worked hard and ballplayers had off season jobs to make ends meet, a whole different ballgame.
Now, I don't know the going rate for an online purchase of an old Don Mossi Topps card but I challenge you to invest a few bucks in a Moss Boss from the internet or sporting goods store fishing aisle and send me those Top 5 submissions that result from crawling that hunk of plastic over those mossy spots on your stomping grounds. Get the catches for this week in by tonight though as the latest Top 5 Update hits the blog tomorrow. Talk to you later. Troy