The lineup needs a trio to share mound duty and a reliable, tough receiver who is willing to don gear referred to as "the tools of ignorance" as he takes his spot behind the plate. Well, you've come to the right place for that MLB Fishing All-Star battery.
Right Handed Pitcher – Dock Ellis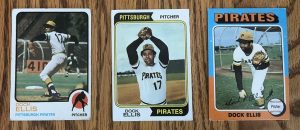 MLB Notes: A quality pitcher, most notably with the Pirates, Ellis had his share of demons as his interesting bio includes trying to hit every batter in the Reds lineup (got the first three, walked the fourth and pulled after a pair of pitches at Johnny Bench's head), getting maced at the ballpark and alleging that he was under the influence of LSD when he pitched a no-hitter on June 12, 1970. How about those 60s and 70s, folks? No mention of how many one-hitters for Ellis though…
Fishing Notes: Indeed his given name is "Dock" so he qualifies for the squad. Shady cover on the lake often littered with a brushpile or two can be winners. Used to get run off of one at Lake Bracken by a homeowner back in the day. Don't recall it being especially productive, just fished it more for the adrenaline rush and potential debate. Much younger in those days.
Topps Notes: I, for one, dig those old drab colored, perhaps even ugly, uniforms as that's a part of my childhood. Back in the days when uniforms were, well, rather uniform and not particularly flashy, simply the work wear of my heroes. But what's up with the glove on Dock's throwing hand in the 75 card (on right above)?
Left Handed Pitcher – Steve Trout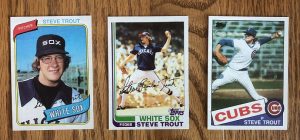 MLB Notes: Southpaw pitchers can just be a different sort and Steve "Rainbow" Trout fit the bill but I suppose that's to be expected when folks called your major league pitching father "Dizzy." His contribution to the 1984 Cubs club that was so close to the elusive World Series appearance solidified the hurler as an endeared member of those who wore the Cubbie blue.
Fishing Notes: Never caught one, but a no-brainer for our squad, with the added allure of his species specific nickname. Maybe have to do another one of these pieces someday as there's a darn good namesake tearing up the American League these days.
Topps Notes: Trout took the mound for both clubs in The Windy City with his stint on the South Side in the midst of some interesting uniform styles.  He was a couple years late for the odd Chisox shorts experiment of 1976 but was on the roster for another strange bit of baseball history, Disco Demolition Night on July 12, 1979 (Google that one sometime as well as Cleveland's Ten Cent Beer Night).
Relief Pitcher – Lindy McDaniel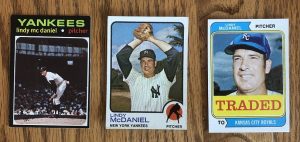 MLB Notes: McDaniel was one of those guys at the end of a lengthy career just as I was getting into all things baseball. As such, I didn't appreciate him and the likes of Claude Osteen, Vada Pinson, Rico Carty and others being more in tune with the stars of the day. Kind of fun to look back at the achievements of those who were old-timers over 40 years ago.
Fishing Notes: In terms of legendary lures, the Lindy Rig certainly deserves consideration for the All-Star list. The setup that took the walleye world by storm in the late 60s is still a mainstay among anglers to this day.
Topps Notes: The 1971 card on left above is an outstanding game shot with McDaniel poised on the mound, getting the sign in advance of the delivery with old Yankee Stadium full of fans looming in the background. Flat out cool.  The 1974 (on right above) and 1976 sets also featured a supplemental series documenting noteworthy late season trades.  
C – Milt May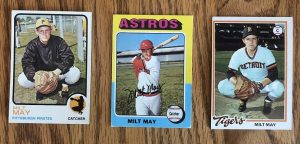 MLB Notes: May was a reliable backstop for a number of clubs and a World Series winner with the 1971 Pirates. I also learned while researching this post that May has the distinction of driving in run number 1,000,000 in MLB history via a 3-run homer on May 4, 1975 that plated Bob Watson with the milestone run.
Fishing Notes: Every once in a while I get to put my biology degree to work and today is one of those days. In order to produce new fish, roe (fish eggs) are fertilized with milt and give you fry (that was one of our coaches, remember).
Topps Notes: Gotta dig the catcher pose as the bookends of the cards above (1973 on left and 1978 on right). Elected not to go for the squatting sweep by including the 1975 batting pose in the middle which was nearly the same as found on May's 1976 card.
With these fellas toeing the rubber and their counterpart behind the dish, I have completed my MLB Fishing All Star squad. I certainly had a good time and no doubt left many players off of the roster. In fact, I just turned up a few more when poring over some of the handful of pre-1970s cards in the collection including the 1953 card pictured below in my sort of MLB Fishing All Star parting shot.
MLB Fisheries Biology 101.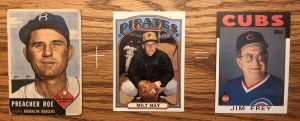 Talk to you later. Troy