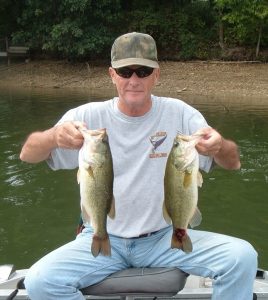 Back in June of 1973, Dad and Mom welcomed a set of twins (boy and a girl) to their family, doubling the total offspring count in joining me and my younger brother, Brent. I share this to convey that Dad is quite familiar with twins so the pair of Lake Storey bass he's holding in this photo weren't anything new. However, these bass were actually a lot closer to the identical variety than his youngest kids.
And here's the scoop via an excerpt from the original report I submitted back in 2007.
Date: 9/25/07
Site: Lake Storey – Knox County, IL
Time: 6:30am-1:00pm
Weather: Partly cloudy/windy
Air Temp: 75F-80F
27 Bass (Dad – 16 Troy – 11)
Top 5 Weight: 11-7 (2-11,2-10,2-9,2-1,1-8)
Top Bass: 2-11 (Dad)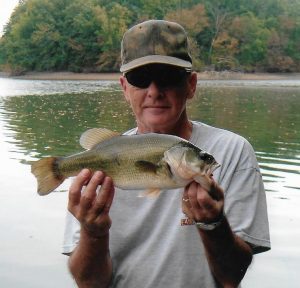 "Dad got us on the board with a 2-9 on his Rapala Rattlin' Rap (firetiger) off of Dump Point at 7:30 am (photo above). At 11:48 I took over the title with a 2-10 on my Bomber Flat A (baby bass). My claim lasted less than a minute before Dad weighed in a 2-11 that he'd hooked only seconds after my fish. Before we released them, I took pictures of each of us holding the pair just like at a real tournament weigh-in."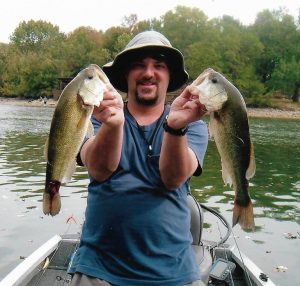 Thus, a pair of the photos that you are looking at today. Two fish separated by one ounce and coming on board darn near simultaneously (note: my brother arrived eight minutes before my sister, by the way, not sure on those weights).
A perfect place to start my rundown of the banner pictures as this one speaks volumes about digging the outdoors. A favorite fishing hole, a favorite fishing partner and a fish story that reinforces why I am thankful that I developed the logging and writing addiction/habit. For I am pretty certain that most of the details above would have faded by now. And while a pic of Dad with two quality fish is still cool, it's even better when you know the whole story.
27 more to come, hope you'll stop by. Talk to you later. Troy