Well, it's getting to be that time when I start wondering about those last few bites before I put the poles away and call it a year. It's been a very rewarding year in terms of time on the water as well as the quality and quantity of fish that have taken a liking to my lures. But hey, not quite done yet.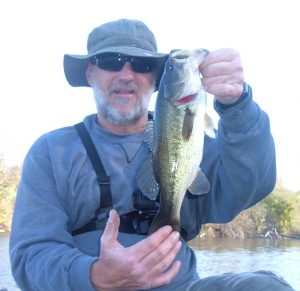 9:42am 14″ 1-8 Red Eye Shad
Stats
Date: October 21, 2017
Locations: Little John Conservation Club (3 lakes)
Time: 8:15am-2:05pm
Weather: Partly cloudy to sunny/windy to very windy
Air Temp: 61-77F
Water Temp: no reading
Totals: 19 bass
Lures:
Booyah Counterstrike spinnerbait (salt & pepper) – 9 bass
Strike King Red Eye Shad (sexy shad) – 6 bass
Strike King KVD 2.5 Rattling Squarebill crankbait (sexy shad) – 4 bass
Top Bass: 2-6 Booyah Spinnerbait
Top 5 Weight: 8-4 (2-6,1-8,1-8,1-7,1-7)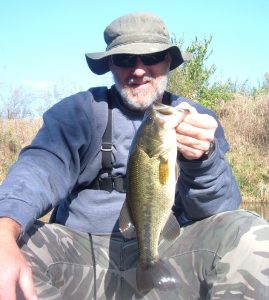 10:39am 14.5″ 1-7 Booyah Spinnerbait
Notes & Nonsense
First Stop – With several bodies of water to choose from, it can present a challenge when deciding where to start on one of these fishing trips. This time around I rolled the dice on a spot that I don't fish a whole lot, part gut feeling and part wanting to give a couple other potential spots some time to warm a bit. I scratched out three on a spinnerbait around some wood, a favorite fall approach, but nothing of note and it was time for a change of scenery after an hour of casting.
Stop Two – My second stop has been my most productive fishing hole the last several years in terms of quality bass so hopes were high to fool something good. I got my shot as one in about the four-pound range took a swipe at my Red Eye Shad just a few feet from the boat but came up short on the strike. I worked the area over thoroughly two more times with a range of presentations but failed to get a second chance. Eleven bass in just over two hours was fun but Top Bass only tipped the scales at 1-8 and only three met or exceeded the 12" mark.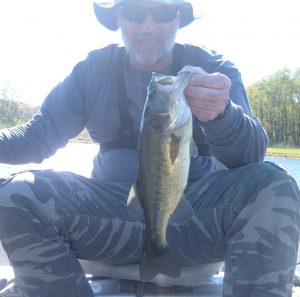 1:17pm 14.5″ 1-8 Booyah Spinnerbait

1:24pm Top Bass 16.5″ 2-6 Booyah Spinnerbait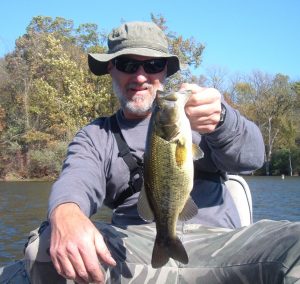 1:52pm 14″ 1-7 Red Eye Shad
Final Destination – Having worked over my big bass spot pretty good I decided to take my last shot of the day on a lake where I'd put a hurt on the bass several years prior on a similar day where the wind was howling into a wooded pocket. On this trip, the wind direction was slightly different but I did finally find an area where it had a few bass stacked on a point. Four of my five bass on the lake came from this area along a slight dropoff at the edge of a submerged weedline. Three were on a cool spinnerbait retrieve that crawled the bait over the weed tops and then just kind of killed it at the drop to let it fall slightly where the bass were ready to pounce, including the day's Top Bass at 2-6. Even with some serious surface chop, the clear water allowed me to see a couple of the bass strike as the bait jumped sideways letting me know I had a fish before I ever felt any pressure.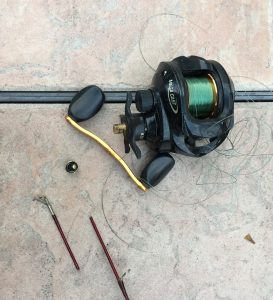 Had a couple gear casualties on this outing
The Cost – While chucking a buzzbait hoping for a little late season magic my reel handle came flying off. Although I did not hear anything splash, apparently something went into the drink as I found several components scattered about the bottom of the boat but not enough. And somehow or another, I busted the tip off my Berkley Cherrywood rod either in transit to or while unloading at my last stop. Both items are not top of the line as that's not how I roll but still stinks when equipment gets damaged. The rod was really tough to take as it was an outstanding lipless crank rod at 7' medium action. Oh well, Christmas is coming into view.
So, a delayed report here from my latest outing and here we are in November. My goal is a November bass to end the year so stay tuned to see how that pans out as weather and responsibilities may make it a challenge. Likely one more shot before it's all said and done. In the meantime, I do have a backlog of Top 5 submissions coming your way along with another batch of Top 10 tunes. Talk to you later. Troy