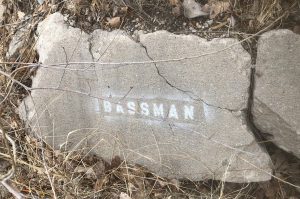 Interesting graffiti landmark, more in one of today's video clips, wish I knew the story
Since I went the extra mile for this trip and a couple welcome bass it seems fitting to add some extras to the earlier report. Here's a few more thoughts and some video shot during an hour of fishing on 11/21 before heading home.
Research – The internet certainly has its pros and cons, one could go on forever on that topic. But for this brief fishing excursion, cyberspace was certainly a winner as I was able to get some general input on Wichita fishing holes to help me make a decision on where to invest my limited time. All turned out just fine after some concern that I hadn't invested enough time exploring from my living room. Once again, a double edged sword as too much info can leave you just as lost as not enough.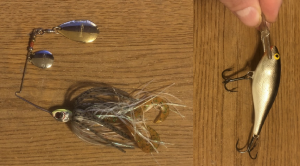 Lures – Nearly all of my casts were made with two lures, a Booyah Spinnerbait and a Rapala Shad Rap. Both are effective around the riprap cover and some wood where I focused nearly all of my efforts. Sure, I would have liked to have bounced a jig around but just too much trouble in the debris fields I found extending out from the bank. Call me "chicken" but I like to get my lures back which can sometimes be a challenge when casting from the bank. While bravery may have been lacking at least I was doing something right to have a pair of my casts come back with a bass attached.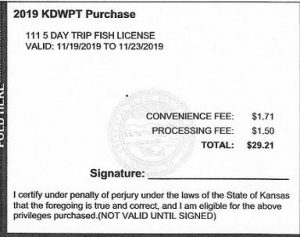 Cost – You can't really put a price on a bass in my opinion. Each catch has its merits based on things like effort, timing, location, companion and yes, even size. However, from strictly the out of stater aspect of the two bass reeled in, we're talking about $14.60 per bass based on the $29.21 total for my five-day permit. While that may sound a bit steep I would gladly invest again. Well worth the cost for the simple fact that I don't have to sit home and play the "What if" or "Boy, I wish I would have" game.
"They say I'm crazy but I have a good time." – Life's Been Good, Joe Walsh (1978) – Did you know that Joe Walsh was born in Wichita, Kansas? Well, neither did I as I've always associated the entertaining fellow with the state of Ohio. So, I learned something new as I put this piece together and perhaps you just did as well. If so, that is right on the money as one the goals of the blog is education. In this case, knowledge comes in the form of a potential answer to a trivia question.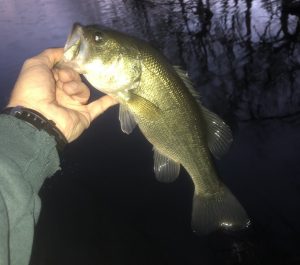 November 19, 2019 at 5:37pm – Betting that this is the last bass of 2019 – Wichita, KS
And so, the firsthand fishing reports for 2019 likely come to an end. The odds are slim that I get out again but as always I've got more than a few blog ideas to get me through the off season. So stay tuned and talk to you later. Troy