With the boys spending the night at my folks and Julie and the girls opting for a Ladies Night of shopping and supper, I took advantage of no responsibilities to head back across The River after work for the third outing in four days.
Stats
Date: June 20, 2017
Location: Lost Grove Lake, IA
Time: 6:00pm-8:45pm
Weather: Partly cloudy/windy-very windy
Air Temp: not sure
Water Temp: no reading
Totals: 6 bass
Lures:
Mann's Baby 1- crankbait (crystal gray ghost) – 6 bass
Top Bass: 2-3 Mann's Baby 1-
Top 5 Weight (only one bass at 12" or better): 2-3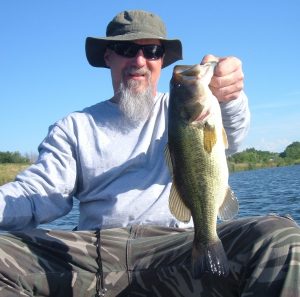 6:01pm First Bass & Top Bass 17″ 2-3 Mann's Baby 1- Crankbait
Notes & Nonsense
First Bass – I'm guessing it was only about my fourth cast when my crankbait got hammered while running parallel to a patch of reeds and through some of the abundant, scattered surface vegetation (see pic later in post).  The fish made a dive that pulled some drag, so thoughts of a new Iowa personal best began dancing in my head before I ever saw the fish. Once I got a look I knew I had what I was seeking but with only the back treble in the lip it was a crapshoot on whether it was gonna stay hooked. It did its best with several leaps and also got some extra time to try and get away with some bad aim as I tried to get a hold with my Boga Grip. But it was my lucky day and after the weigh-in I had a new "lake record" of 2-3, meeting my long-held criteria of a "good one" by hitting the two-pound mark.
Premonition – On the eve of this outing I posted the following on Facebook:
"15 Years Ago This Week – June 23, 2002 – Lake Bracken gives up 12 bass in 5 hours and while the fish weren't overly impressive, the lure that landed 11 of them is a winner. In fact, the Mann's Baby 1- crankbait was included in a 'Legendary Lures' series that I compiled back in February 2012 for my previous blogging gig at Heartland Outdoors. Looking to revisit the concept on the new website at some point and have the lure pictured below tied on in prep of a fishing outing tomorrow evening, hope to add to the legend."
While a 2-3 isn't necessarily a trophy, it is a new "state record", another feather in the cap of this old favorite.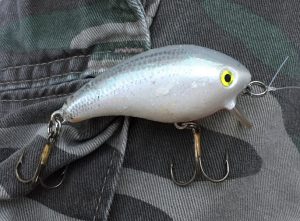 A "legend" lives on, Mann's Baby 1- Crankbait
That's Fishing – As usual, I can always find something to write about even when all but one of my bass fall into the less than impressive category. To me, it's all part of the blogging portion of the program as I believe a lot of anglers can relate to fishing reports that provide more than just the highlights. For today's installment, some of those details include 2 bass in the first 9 minutes, 3 bass in 10 minutes about 90 minutes later, a final bass roughly 25 minutes after that and then ending the trip with an hour drought. So, beyond the last straggler, my catches came in a 19 minute period within the 2.75 hours total on the water. I hit all my spots, some twice, and even changed my approach to slow down but just one of those days chalked up to "that's fishing."

Here's a sample of surface weed growth with some of these lengthy strands of slime extending 30′ or better. In addition, the subsurface growth is just as crazy making for limited presentation options.
Fishing Lesson – Over the years, an angler learns some things the hard way that lead to some new habits that hopefully prevent the same mistakes from occurring again. Today's lesson stems back to one night at the Lake Bracken Clubhouse parking lot back about 1985. Packing up to head home after an evening of prowling the bank for panfish followed by some after dark stationary catfishing, I failed to notice that my tacklebox did not find its way into the old wood panel station wagon. No Good Samaritans on this occasion either to bail me out of a foolish mistake and one of my most prized possessions (behind my baseball glove I suppose) was gone. From that day on, I always take a look at my surroundings after loading the boat or changing locations when on foot to make sure I've got my stuff. The customary check was a winner again on this night as my shades were on the bed cover as I did the final walk around of the launch, truck and parking area.
Attire – Okay, one last note. Heading in to Father's Day I asked for a new fishing shirt; lightweight, long sleeved and light color to help combat the sun. Thanks to a great wife, my wish was fulfilled regardless of what kind of dad I am. Now, I've been wearing the same basic fishing apparel for years (actually pretty much same real life batch of apparel too) so this was a step outside my comfort zone and it paid off with my new Iowa record. Looking to fish later this evening, so if it ain't broke…may have to cover it with my lucky gray sweatshirt though as it's been unseasonably cool of late.
I suppose you've had enough and I have as well. Next up, looks like a kids' fishing report, a grown up report if I get out tomorrow and one of these days I'm hoping to kick off a park review sort of project. Always a work in progress though, so talk to you later. Troy