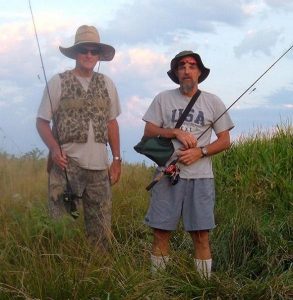 Well, we made it, 28 days in a row for this thing and will finish with my favorite picture of the bunch, always brings a smile.
Just a couple fishin' fools, all dressed up with somewhere to go.  From the looks of these guys, the fish don't stand a chance.
This one comes from July 23, 2012 which was birthday #45 for me. Dad told me he would take me anywhere for my birthday, a meal, a movie, Bass Pro Shops, Vegas, whatever. He's retired, had a free day, so up to me.
I chose the creek (remember, that rhymes with stick, right).
Okay, so that's not really how it went down but the July 23 birthday thing is true. And for a lot of years, he and I have gotten together to chase some fish on or around that date. This time we chose a spot we call "Pat's Creek" and armed with a couple containers of dew worms we were ready for whatever swims there. That's the fun of wading the creek as you never know what will pull on the end of your line.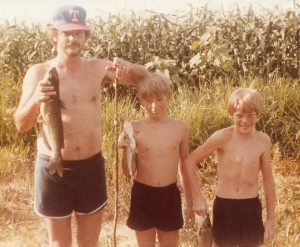 Dad (Terry), Brent and Bub Jackson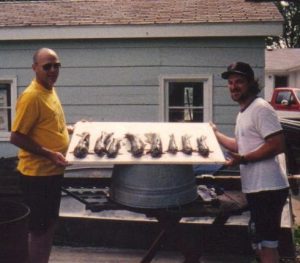 Dad (Terry) and Troy Jackson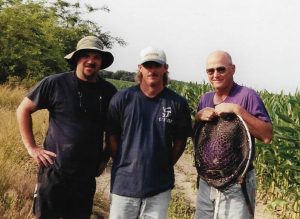 Troy, Brent and Terry Jackson
Today's picture and the additional samples serve to convey family fishing at its finest. A rod and reel (or some bankpoles), some livebait, whatever old clothes you don't care about, a pair of "creek shoes" and getting right after the fish right where they live. Really don't get much more basic than that and here's how I summed up the July 23, 2012  trip in an excerpt from the original fishing report posted on July 24, 2012.
"A creek is always a wonderful hike and traipsing the same ground for thirty or forty years as we have gives you an intimate sense of just how dynamic such a habitat can be. We told the same stories again for the umpteenth time and they were just as good. We listened to catbirds, once again dusted off our old creek shoes, ate sandwiches with a touch of dew worm, fish slime and creek mud, traversed the maze (or maize) that is a mature cornfield, contended with nettles, poison ivy and hidden, underwater toe stubbers and said hello yet again to places like The Roots, The Culvert and The German Torpedo (tales for another day). I guess the only thing missing on our fishing trip was some decent fish. But, you know what, I achieved what I set out to accomplish, enjoying a slice of my birthday with a fishing pole and a longtime fishing partner."
So, with the picture of these two goofballs, I'll call it a wrap on the month long "Blog Banner" series. Today's picture was one of those instances that just deserved to be preserved and I am grateful that a camera has been a steady companion over the years. I must say that the addition of a written memory to accompany the pictures has also provided quite a treat upon developing this writing habit back in 2002. Sure hope some fellow outdoor enthusiasts can find some common ground when they get a chance to stop by.
Since you now know the rest of the story on the 28 pics that greet you here on the website, they are gonna stick around for a while longer. But look for a new Blog Banner coming your way this spring. And also look for the first fishing report and the second Top 5 update of 2018 headed your way soon. Talk to you later. Troy