Another Tuesday evening outing worked its way into the schedule for the fourth time this summer. And yet again, way too much sun for my liking also worked its way into my fishing trip but you get what you get and you don't throw a fit. I'll also tell you up front that I didn't get much but such is fishing and I will stick to my commitment of a fishing report for every outing through thick or thin.
Stats
Date: July 25, 2017
Location: Lost Grove Lake, IA
Time: 6:16pm-8:31pm
Weather: Sunny/windy
Air Temp: 80F
Water Temp: no reading
Totals: 1 bass
Lures:
5" Yamasenko wacky rig (pumpkin with black flake) – 1 bass
No bass at 12" or better
Notes & Nonsense
Crank Bank Revisited – In the report from my previous visit to Lost Grove I noted that "I discovered a spot that could certainly pay further dividends and will be a regular stop." Just as planned, I stuck with the "regular stop" portion of that statement.  In fact, I made two runs through the stretch. However, the "regular dividends" aspect did not pan out as it failed to give up a fish. I did get one decent strike on a buzzbait but couldn't hook up with several follow up casts with a Senko and Whopper Ploppper. Got some neat footage of the strike with my GoPro but need to find some editing software (and time) to mess with that stuff as well as decide just how to utilize video in this whole venture, if at all…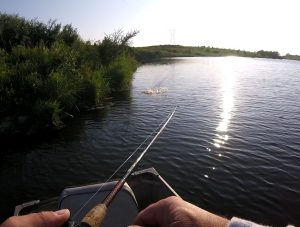 Gotta admit that the GoPro thing is pretty cool as this buzzbait strike shows, even though the fish had bad aim. Proud of myself though for not setting the hook as I never felt the fish on, did make me jump a bit though as I observed in the video footage.
Last Gasp Cast – As sunset loomed and I neared my two hour window that I'd looked to fish, the bass still had the upper hand in dealing me a shutout and one lone missed bite as noted above. With a bit of sunlight remaining I decided a final cruise down a stretch in proximity to the launch was going to be my last chance. 8:30pm was originally quitting time but zero bass had me lingering for a few more desperate casts. At 8:31pm my quest was fulfilled with a bite on the Senko wacky rig and I truly didn't care that the bass was a whole 10", at least I avoided the embarrassing shutout. That was good enough for me as it is always rewarding to catch a bass on the last cast and perhaps even more so when it's the only fish of the evening.

8:31pm Lone bass 10″ on the Senko, anyone remember that old show "My Favorite Martian" where the guy would sprout antennae from his head?
No sense in milking this one out any more than necessary as the buzzbait strike and final catch were pretty much the only items of note and admittedly not overly noteworthy to anybody but the guy in the boat.
Thought this was finally gonna get me caught up on fishing reports but guess where I am this morning? Yep, sitting in a boat in the strip mines as the stars aligned once again and all the kids are gone to my folks. Actually a tough call to fish or sleep in but think I am doing the right thing. Besides, no kids when I get home means I can even take a nap. Hopefully, my outing today will provide something for a Monday Top 5 update as I have not received any fish from the "fans." If not, full report up later next week anyway. Talk to you later. Troy